The pros:  Trader Joe's Chicken Cilantro Mini Wontons make for a quick and easy snack or meal.
The cons: You'll still want a bit of dipping sauce as these are a bit bland on their own.
The verdict:  If you like dumplings, then Trader Joe's has you covered. I grabbed this bag because it is one of the few I haven't tried up until this point. Yes, there are an array of potstickers and other dumplings, but I was in the mood for wontons. You get close to 50 mini wontons in this one bag. Even if you sit down and eat the whole entire bag yourself you are still under 500 calories for an entire meal. Best of all, these can be ready in 5 minutes and under depending on how you choose to make these.
In the microwave they are done in about two minutes, however, I did find that I did not love the wrapper quite as much as I did when I browned these in a pan. But hey, they are wontons. I did wish I had a few more to put into a soup. These are bit sized and unlike the potstickers which might require two bites. The wrapper shines when slightly crisp but seemed slightly rubbery from the microwave even following the directions using wet paper towels.
The flavor here is mostly chicken, but don't expect a big pop of cilantro. It is quite muted. You'll also want to keep a dipping sauce on hand (I had Trader Joe's Gyoza Dipping Sauce). What you dip it in will make all the difference in the world. The dip is what can up the flavor here. Otherwise, this is another reliable choice in a long list of frozen dumplings that can be found at Trader Joe's. Priced at $2.99 it wasn't a bad deal either. As for the illustration on the bag, bless your soul if you are willing to find a dish that holds each one individually. But if you are more of a realist, just throw them in a bowl and enjoy.
Here is the visual run down of what you get if you buy this product:
The bag of Trader Joe's Chicken Cilantro Mini Wontons: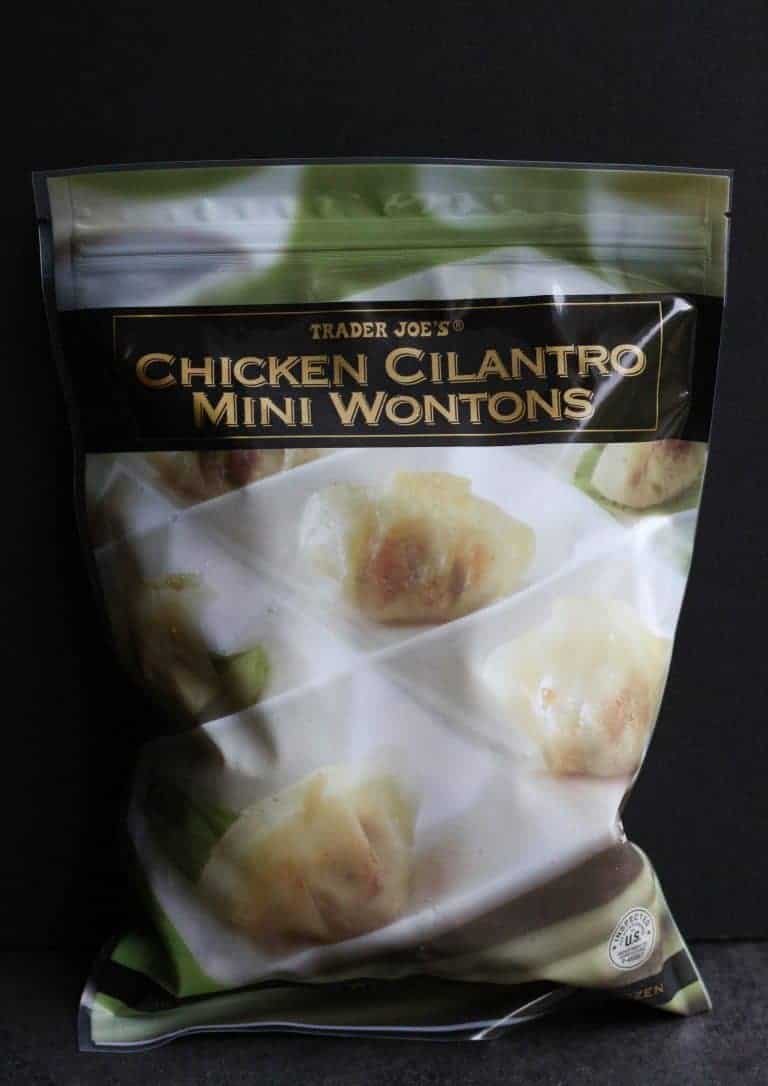 The nutritional information:

The ingredients and how to prepare: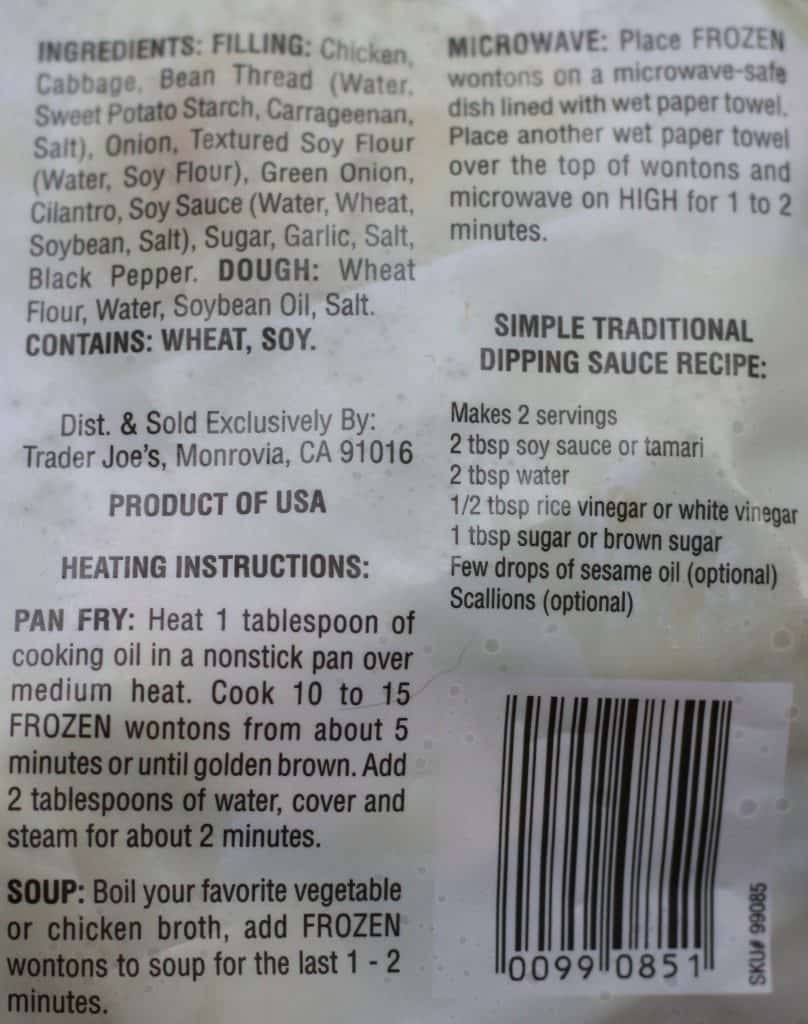 After being cooked you get: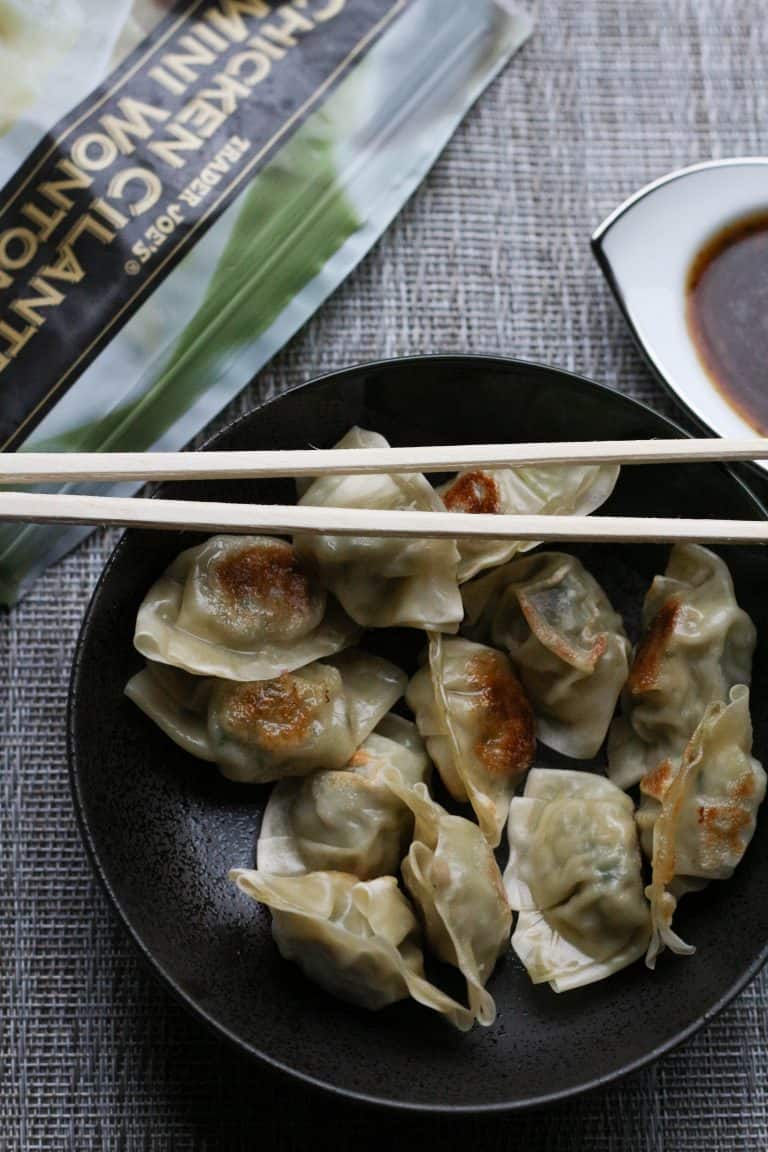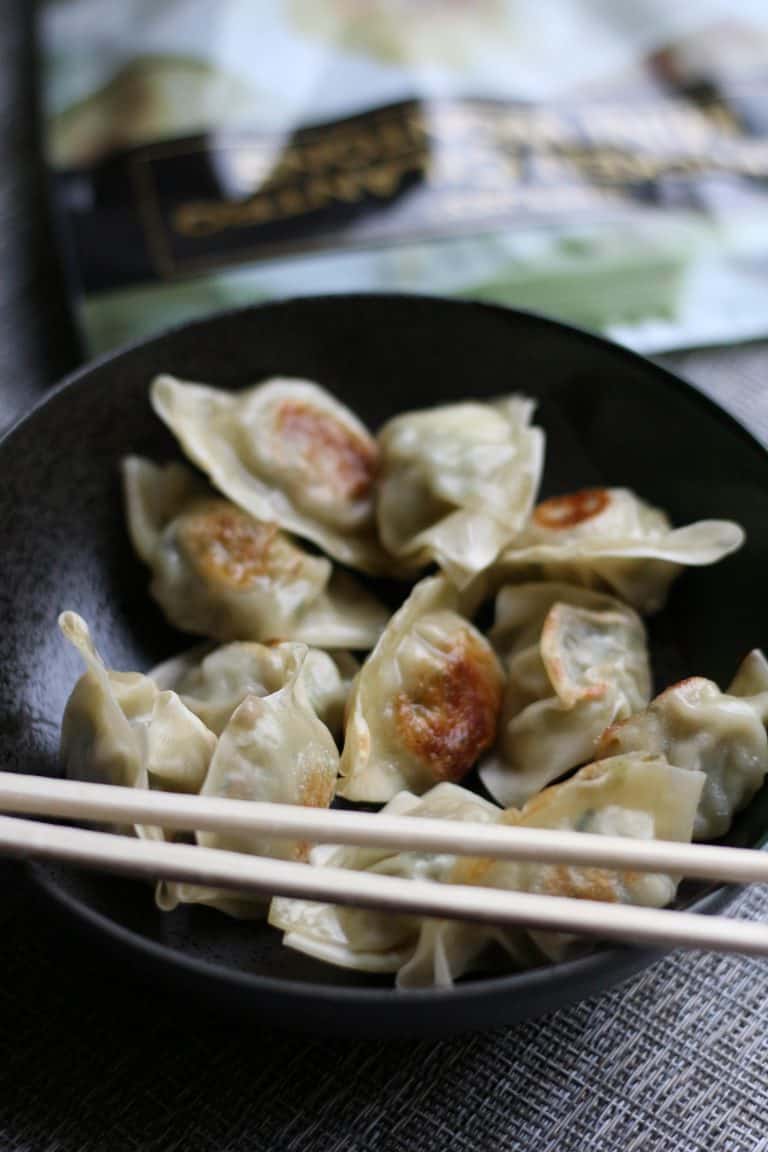 Would I buy this again? Yes, I would consider repurchasing Trader Joe's Chicken Cilantro Mini Wontons again. They would make for a really cute appetizer.
Want to see more items I've reviewed from Trader Joe's? Click on Thoughts & Reviews of Trader Joe's for a searchable list.
Did you try it? Let me know what you think in the comments section!
357