Oh Trader Joe's, you know most people won't keep the New Year's Resolution. So they are giving us another popular product double. And yes, this adds to a long list of product doubles that I've tried, especially in the snack food section. Behold, Trader Joe's answer to the popular snack: Takis.

Taste
If you've never had a Taki before in your life, then allow me to explain. They are rolled tortilla chips doused in a fiery chile and lime seasoning mix. Picture a spicy lime Dorito rolled up and that is pretty much a Taki. And the bag I tend to see the most is their Fuego variety found in a purple bag. They do sell a Nitro one with Habanero, but I haven't been able to find it to try it.
The kids at work love them. I see the Taki brand of chips all over. Those purple bags are everywhere. I had one and I was shocked by how much kid's taste buds have changed. When I was in school everything was very sweet. Takis are savory and hot. I can't even imagine how hot the Nitro must be. Fuego was hot enough to slow me down.
While Trader Joe's answers to Takis is similar, there are some differences. Yes, these are crunchy rolled tortilla chips that are heavily coated in a chile-lime seasoning blend with some key differences.
If you are more of a wimp when it comes to heat, then these are the more mild answer to the fuego variety.
These are far more limey. These also didn't dye my fingers a red color as strongly as takis did. Not a deal-breaker, because who doesn't love a finger full of the delicious powdery substance?
These are labeled as being gluten-free.
Overall
I liked these. Would I reach of these over a bag of Takis? No, but I think they are a reasonably good copycat product. I wouldn't say no to these either. As for repurchasing these, I wish these had landed closer to Superbowl time, as by then most people have abandoned their resolutions for the year.
For $2.49 they are an affordable chip, gluten-free, and a more tart take on Takis. It will be interesting to see if they introduce other
Did you try it? Let me know what you think in the comments section!
Product photos
The bag of Trader Joe's Rolled Corn Tortilla Chips:
Calories
Ingredients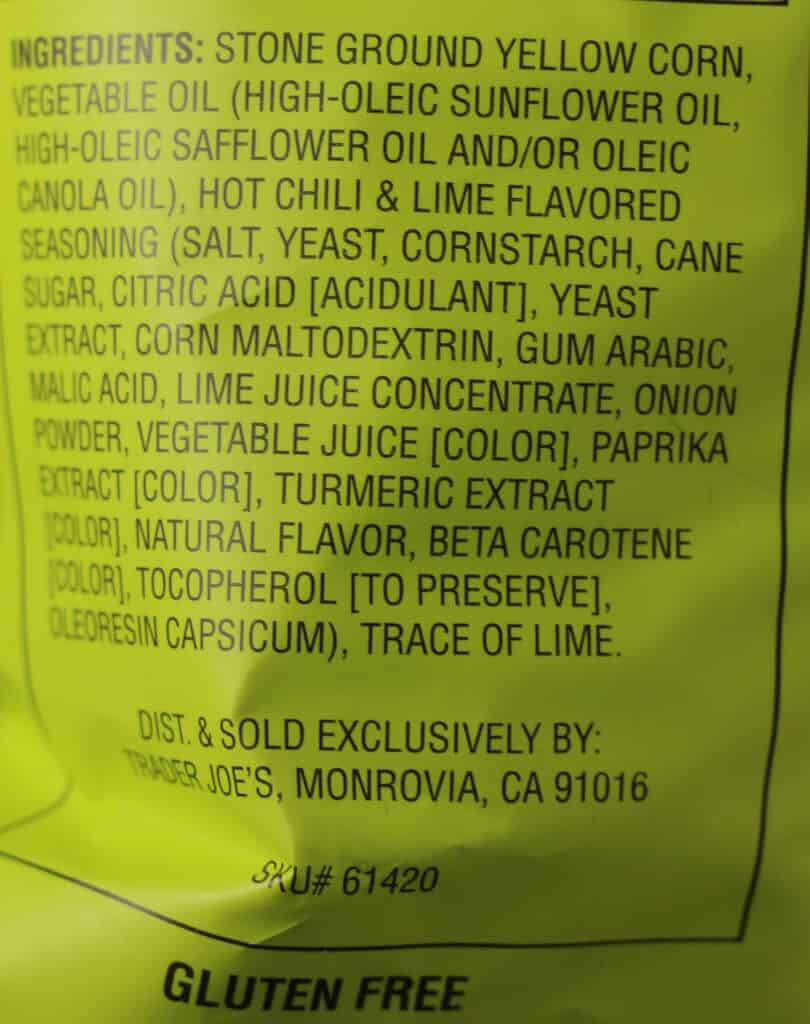 Out of the package you get:
Want to see more items I've reviewed from Trader Joe's? Click on Thoughts & Reviews of Trader Joe's for a searchable list.
Trader Joe's Rolled Corn Tortilla Chips
Product Name: Trader Joe's Rolled Corn Tortilla Chips
Product Description: Trader Joe's Rolled Corn Tortilla Chips Chile and Lime Flavored are meant to be Trader Joe's answer to Takis.
Price: $2.49
Summary
Trader Joe's Rolled Corn Tortilla Chips Chili and Lime Flavored are extremely similar to the commercially popular product called Takis. Specifically this is a take on the Fuego variety.
Taste

Value

Worthy of Repurchasing
Pros
A gluten free alternative to Takis
If you like a more mild heat, then this is a good bag to reach for.
Cons
Not has hot as Takis
More limey, so if you don't like acidity, you might want to reach for the originals
208