The pros:  Trader Joe's Tilapia is a good choice in the frozen section if you are looking for a firm frozen fish on a budget.
The cons: Some Tilapia packages are sealed far better than others, so please make sure yours is as vacuum sealed as possible to ensure freshness. If you eat with your eyes, then perhaps you'll want to split the filet in half to get rid of the dark line running down the middle.
The verdict:  With Lent fully under way, you'll have to forgive me if you see an above average number of seafood reviews in the next thirty something days. I still keep it old school when it comes to certain family traditions. No meat on Fridays is one of them. Last year, I tried Trader Joe's Panko Breaded Tilapia, which is my favorite for lazy cooking. That is a regular purchase in this household. This review however, refers to the frozen fillets.
Trader Joe's does offer a number of seafood options that are not already prepared or processed. So depending on your culinary ability will dictate what you should reach for. Believe it or not, this is actually quicker to prepare that the breaded fish fillets as they don't take very long to cook at all. I opted for a quick pan fry. From start to finish, I was done in about 10 minutes. While the directions do say microwave, I'll never give that a whirl. Certain things just need to never be place in there.
For $5.99 per pound, this isn't as cheap as my local Asian grocery store. Tilapia there sells for something closer to $3 a pound. A very inexpensive fish. But if you haven't tried Tilapia, or if you are on a budget, it is a good one to reach for. Recently, I tried Trader Joe's Dover Sole which was outstanding. However, that fish fell apart much easier than this. The fish is far more firm that the sole. It too is very mild in terms of flavor. Because it doesn't have a strong taste, you'll want to add something to it to like a sauce, a squeeze of lemon, or perhaps some tartar sauce or nice breading.
I followed the pan sauce recipe on the front. I think three minutes is a bit short for getting a pan sauce together, but regardless it made for a nicely flavored sauce that complimented the fish. If you are on a budget and salmon or sole are out of reach then this is a good one to reach for. There were two fillets in my package which made for two nice sized servings. My only complaint was there was a dark line running down the middle of both fillets which is edible, but not the prettiest. Also, keep an eye on the seal on these packages. Some packages seemed like the vacuum seal wasn't as air tight as it should be which might lead to freezer burn if you store this too long.
Overall, a nice fish dinner for two. Where else can you get two nice protein portions for under $4? You won't get that price going out, but you may shave a few cents off your bill if you can find a good fish monger or Asian grocery store.
Here is the visual run down of what you get if you buy this product:
The package of Trader Joe's Tilapia:
The nutritional information, the ingredients: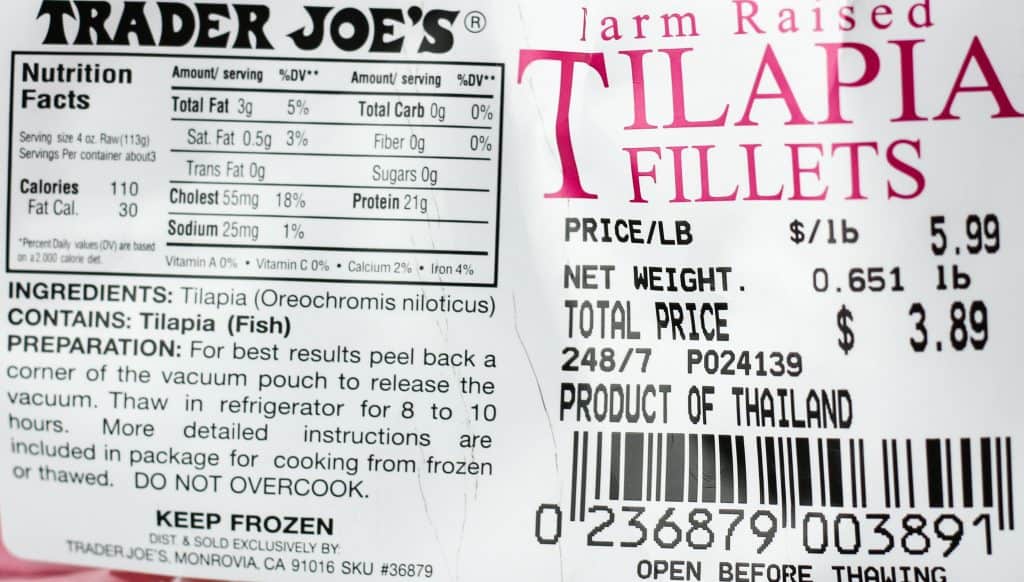 How to prepare:
Some additional suggestions:
After being cooked you get:
Would I buy this again? While I much preferred the Dover Sole over Trader Joe's Tilapia, there was nothing wrong with the quality here. I'd reach for it if I could not get to my local H-Mart for fresh tilapia.
Want to see more items I've reviewed from Trader Joe's? Click on Thoughts & Reviews of Trader Joe's for a searchable list.
Did you try it? Let me know what you think in the comments section!
161