The pros: Trader Joe's French Brioche is a delicious, light and buttery bread. It was buttery bread that was as fresh as can be. Toasted it was light as a feather with a sublime taste. While I haven't tried it as French Toast, I image it will be quite good.
The cons:   Sharing this product will lead to the bag being emptied almost immediately.
The verdict:  For $3.99 per loaf this is not a cheap loaf of bread, but it is tasty. Each slice is relatively thick and seems like almost double the size of a regular slice of white bread. It is also nearly double the calories as a regular slice. Each and every calorie is worth it. Each slice let's you know it's worth it too. The bread has some bakery paper around each slice to make sure that this buttery brioche does not stick to the sides of the bag. Plain it's as good as any brioche from a bakery.
Toasted is where this product shines. Since the slices are on the thick side, you'll still have moist bread, but you will have and airiness that you can embrace more than you could with other breads. The braid is most visible when toasted. There is a nice contrast between the toasted part and the barely there center. Since this is fresh bread, the shelf life is limited.
If you allow others to share this with you, you might find the shelf life is non-existent. I said to my husband "Try mine." What do I get as a reward? An empty bag by the next morning. Thus, I'm buying two more loaves on my next trip to Trader Joe's.
Here is the visual rundown of what you can expect if you purchase this product:
The bag of Trader Joe's French Brioche in the bread aisle:
The nutritional information: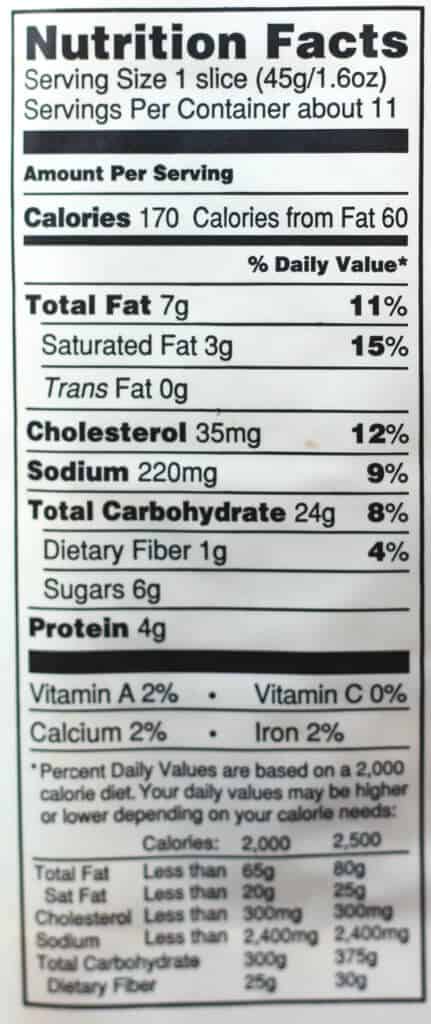 The ingredients and allergy information. Yes, this is actually from France:
Out of the package you get:
After being toasted you get:
Would I buy this again?  Yes, this freezes well. Sadly, others will want to share and might leave you with an empty bag. This is worth the almost $4 per loaf.
Want to see more items I've reviewed from Trader Joe's? Click on Thoughts & Reviews of Trader Joe's for a searchable list.
Did you try this? Let me know what you think in the comments section!
140