The pros: Trader Joe's Lemon Elderflower Soda is lemon soda with the added twist of fragrant elderflower. Could probably be used as a solid drink mixer.
The cons: The floral fragrance might not be for everyone.
The verdict:  Last week, we had a snow storm. The snow wasn't so bad, but the winds and following cold were. Needless to say, I and a whole lot of other people made the ritualistic trip to Trader Joe's (or some other grocery store) in the unlikely even we would not be able to leave our homes. Well, by the time I got there at the end of work it looked like all the almond milk and gluten free breads had been swiped out of Trader Joe's shelves. No worries in my household. I was there for things that most households would not consider basics.
Nope. I was there for seltzer. And coffee. My grandparents clearly passed on the coffee gene. We joked around that they would drink it intravenously. There were plenty of times the party size coffee maker would sit on their counter top. I'm not talking about a 10 cup model. A full thirty cups of joe between two people on a near daily basis. They both lived well into their 90s. Oh, they slept well too. Caffeine clearly had no effect. I'm proud to say that I picked up those genetics. I've had a cup of coffee and gone back to bed.
Now, the mood at the Hartsdale Trader Joe's was pretty good. A few complainers, but everyone seemed pretty cordial to one another. Probably because we were in full "milk and bread" panic and that gave everyone something to talk about. Of course when you are in line an above average amount of time, you start comparing the contents of your cart with others. If my cart could speak, it would say, I need caffeine and carbonation. Mixed in with the various seltzers was Trader Joe's Lemon Elderflower Soda. In fact, the lady behind me was nice enough to keep an eye on my cart while I grabbed it from the lines that went down the beverage aisle. The previous week they had the Strawberry Rhubarb. Now, they had something new and I needed to try it.
If you have tried Trader Joe's Sparkling Lemonade which is found in a glass bottle and comes all the way from France, then this isn't too different. This is far more portable, it isn't glass, and its easier to portion control. This does actually contain fruit. However, this is still different from their sparkling lemonade. Elderflower fragrance is very much present as is a slight floral taste. But it was nothing that reminded me of laundry soap. It was sort of fancy on its own. Elderflower is far more common in Europe that is here in the US. The tiny white buds are even featured on the box and on the can.
My only previous experience with elderflower is with St. Germain Liqueur which is derived from Elderflower. These little sodas made me think that they might also be a fun mixer with St. Germain as well. That experiment will have to wait though. This box of four cans only lasted 24 hours in my household. For $3.49 you get four cans of pretty decent if not slightly fancy sodas. They're worth a try if you like the citrus flavor of lemon. Best of all each of these little cans will help you get your bubble fix but isn't as bad for you as regular ol' soda. Nope. Each can is a respectable 70 calories. Not diet soda level, but not regular soda either. But it is a flavor that stands out from pretty much everything else out there.
Here is the visual run down of what you get if you buy this product:
The box of Trader Joe's Lemon Elderflower Soda: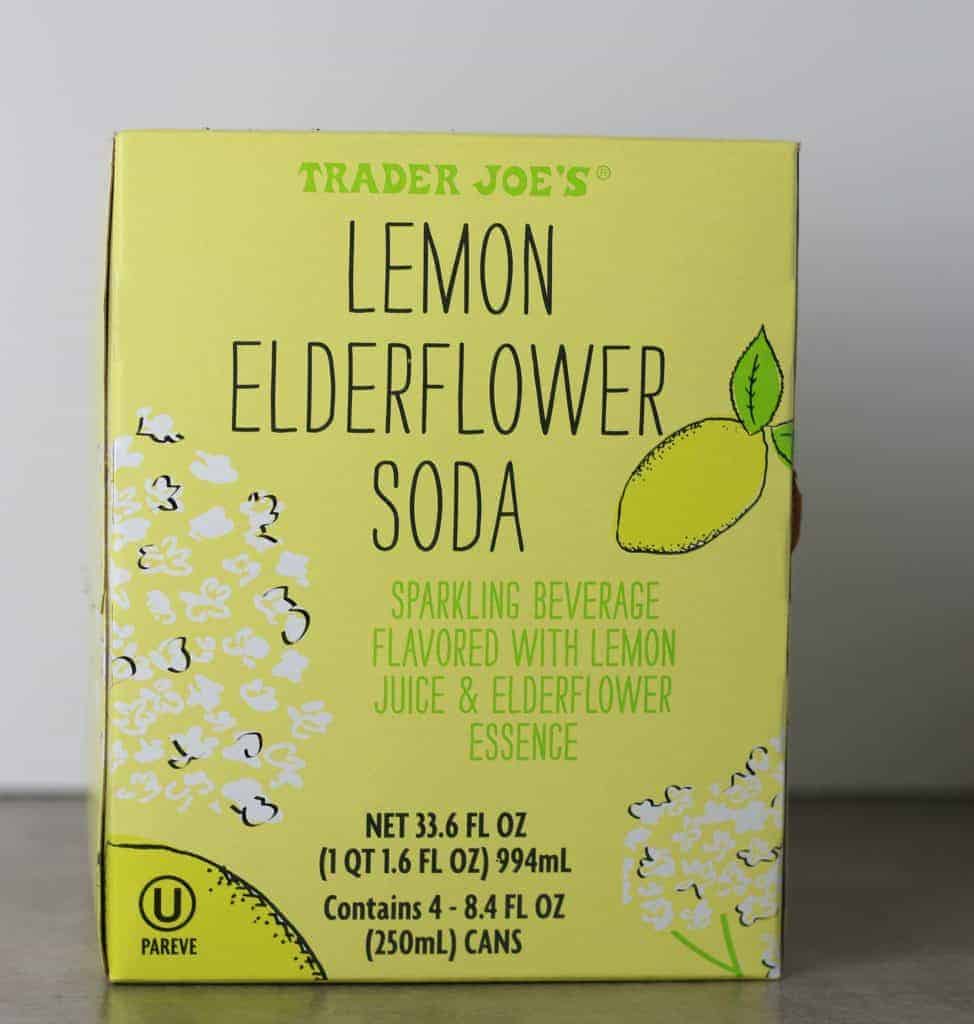 The nutritional information and ingredients:
How Trader Joe's describes this product:
After being poured in a glass you get:
Would I buy this again? Yes, I would buy Trader Joe's Lemon Elderflower Soda again. It was tasty and fragrant. It was unique and in a reasonable size. Worth a try at least once.
Want to see more items I've reviewed from Trader Joe's? Click on Thoughts & Reviews of Trader Joe's for a searchable list.
Did you try it? Let me know what you think in the comments section!
57