The pros: Trader Joe's Wild Salmon in Yogurt and Mint Sauce is easy to prepare.
The cons: Not great overall. You are better off doing a bit of meal prep yourself. Also, I'm not sure what purpose the tomato serves. It was just there for color and did not add much here.
The verdict:  Maybe it was a bad thing that I started off reviewing the frozen Indian meals. I mean they are all just done so well. I then started reviewing the single serve pasta meals and was shocked as to how average (at best they are).
I figured there might be some hope as this is not $1.99. Nope, this will set you back $4.79. The picture on the cover is even more compelling. It looks like a restaurant meal. Perhaps the premium would be worth it.
I mean, I did recently try the Wild salmon in the refrigerator case and I did prepare this in the oven. How bad could it possibly be?
Not good.
The salmon was a decent enough size for the price of this package, but even out of the oven it was quite an unattractive color. The salmon looked more like road kill rather than the bright hue that you might get out of the refrigerated case. I tried the Wild Salmon in the refrigerated case. It cooked to an orange-red hue. This did not.
Bummer. The salmon wasn't even seasoned. The simple act of adding just salt and pepper would have made a difference. Even a squirt of lemon would have gone a long way here. But nope. None of that were present.
Perhaps the mint yogurt sauce would rescue this. Nope. It was a cream sauce. There was mint. I'm just not sure this was the right pairing with the flavors here. There are a number of things that would pair well with salmon. This just wasn't it.
And the orzo? Overcooked. It teetered on being mushy. It's a shame too. I remember when Trader Joe's sold the Salmon Mojito in the freezer case.
It was two portions. It was outstanding. This was edible. Not good. Not great. Just edible. It's a marginal lunch or dinner. It's a reasonable size. But there are so many failings here.
Overall, I can say I tried it. But I did not enjoy eating it. I really gave this the best possible chance. I even waited the 40+ minutes for this to come out of the oven. This is a whole lot of nope from me in terms of repurchasing.
If you really love salmon, then don't hesitate to go to refrigerated section instead. Both the farmed salmon and wild salmon are excellent choices. With some minor meal prep time at home, you can make several meals that will take just as long as this did. But they will taste so much better.
Here is the visual run down of what you get if you buy this product:
The box of Trader Joe's Wild Salmon in Yogurt and Mint Sauce:
The nutritional information, the ingredients, and how to prepare:
After being cooked you get: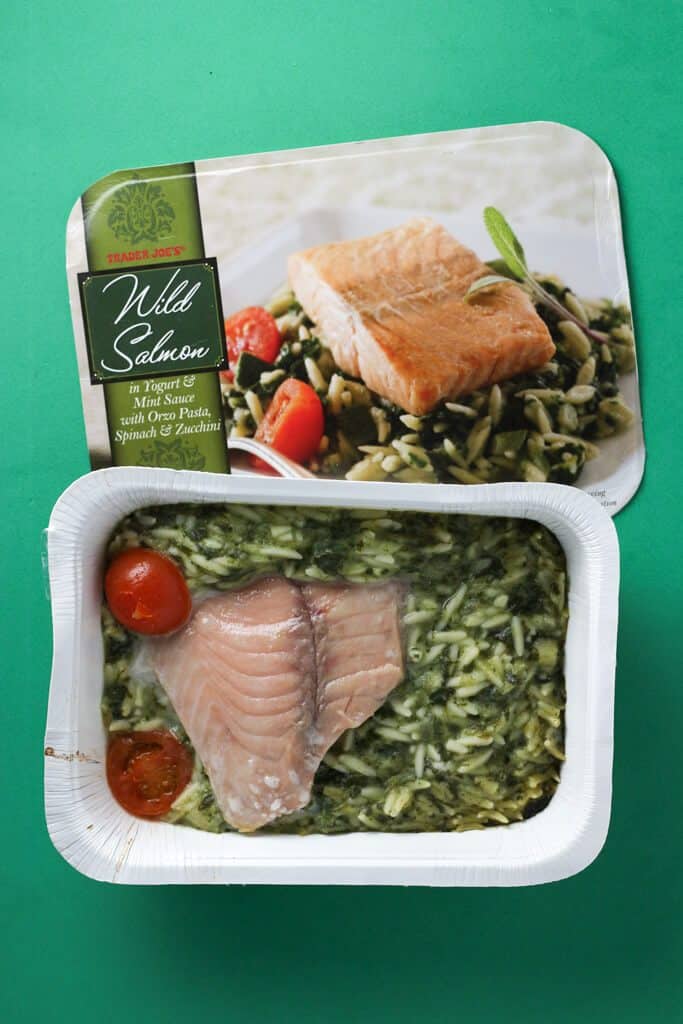 Would I buy this again? No, I would not buy Trader Joe's Wild Salmon in Yogurt and Mint Sauce again.
Want to see more items I've reviewed from Trader Joe's? Click on Thoughts & Reviews of Trader Joe's for a searchable list.
Did you try it? Let me know what you think in the comments section!
120