The pros: Trader Joe's Authentic Greek Feta in Brine comes to you directly from Greece. This is a tasty feta cheese.
The cons: Nothing stands out.
The verdict:
One of the things I miss most about living in Queens, NY is all the ethnic markets. There was nothing like going to a market and getting the "real thing." What I mean by this is that you knew this is how food was supposed to taste back in the the food originated in. In fact, some of the packages of feta cheese I picked up had minimal English on it, the rest was Greek to me.
Since moving a bit further north and over a bridge, I'm away from all of these neighborhood delights. So, in the meanwhile I've made do with various crumbled fetas in the grocery store. They're good, but they're not diner or Greek Restaurant good.
This feta however, is what I've been missing. The packaging is a bright blue, almost the color of what you would expect Santorini to look like. In this bright blue package are two large rectangles of cheese that sit in a pool of salty brine. I did not realize that there were two when I first opened the package. This cheese is more dense than the crumbled variety, but tastes so much better. The brine helps keep the product fresh while adding a touch of salt as well.
Paired with some salad, Dolmas, and some good dressing and you have a completely enjoyable Greek salad. These can be cubed and enjoyed with a bit of olive oil too. I'm sure there are other uses for feta cheese, but those tend to be the two most common uses in my household.
For $6.49 this is not cheap. I'm pretty sure I paid far less for a huge container of crumbled feta at Costco, but I enjoyed this so much more. It's not something I would buy weekly, but was a really good treat. If you enjoy feta, then this is a good bet.
Here is the visual run down of what you get if you buy this product:
The package of Trader Joe's Authentic Greek Feta in Brine:
The nutritional information, ingredients and where this is produced:
Out of the package you get two rectangles in brine: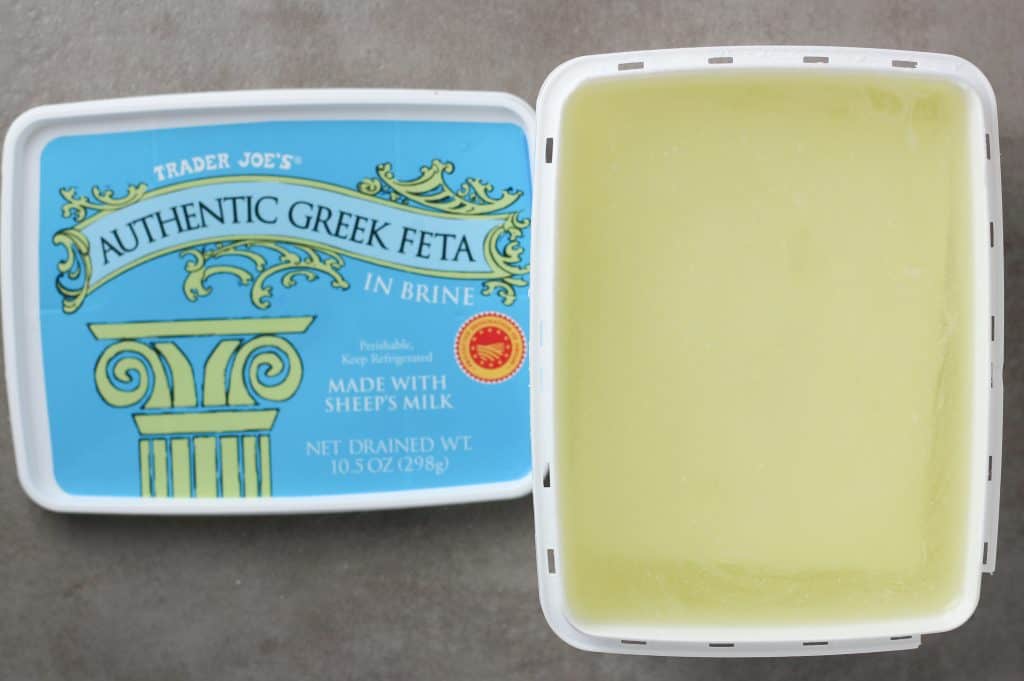 After being prepared as a homemade Greek salad with Dolmas and feta:
Would I buy this again? Yes, I would buy Trader Joe's Authentic Greek Feta in Brine again.
Want to see more items I've reviewed from Trader Joe's? Click on Thoughts & Reviews of Trader Joe's for a searchable list.
Did you try it? Let me know what you think in the comments section!
107