The traditional Cubano is swiss, ham, pork, mustard and dill pickles on a buttered roll that has been pressed for your culinary senses. Trader Joe's Cubano Seasoned Wrap takes the same concept and throws in on a tortilla and called it a wrap. While it's in the refrigerated case, it should be heated up somehow to get the cheese a bit melted (either with a panini grill or microwave). It's awesome as long as you don't look at the calorie count. It is among some of the most caloric of the wraps. For $3.99 you'll be hard pressed to find a sanwich this cheap at your local deli.
The Pros:  So many porky levels of delicious.
The Cons:  The calorie count. If you are dieting this could wipe out a third to half of your calories a day. If you are not counting calories, the con would be they are frequently sold out. It is on the salty side.
Verdict:  Awesome sandwich. Super tasty. I'll buy it again to give myself a break from some of the lower calorie options. It's much better after being put in the microwave for 30-45 seconds to melt the cheese.
The package of Trader Joe's Cubano Seasoned Wrap:
The calorie count (look away if you are squeamish):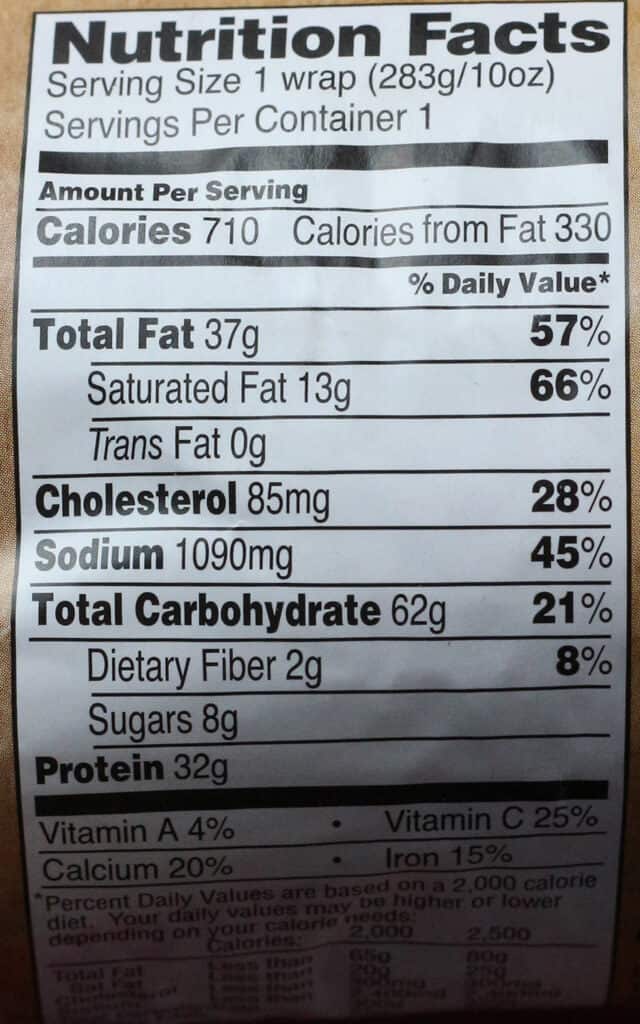 The ingredients (it was like reading the intro to a Star Wars Movie):
Cut in half to reveal the contents of this wrap:
If you are a fan of Cubano sandwiches you'll like the change of format on this one. Again, I think eating this cold was a bit of injustice and strongly recommend you heat yours slightly. Awesome lunch/dinner option. Great meal for cheat days if you are dieting. Great value for $3.99
Want to see more items I've reviewed from Trader Joe's? Click on Thoughts & Reviews of Trader Joe's for a searchable list.
63