The pros: Trader Joe's Mini Hold the Cone Vanilla Ice Cream Cones are one of two year round varieties of mini ice cream cones.
The cons: Hard to eat just one. Chocolate and vanilla flavors are offered year round. Other varieties will appear, but are seasonal.
The verdict:  The start of the summer season is nearly upon us. Yes, Memorial Day weekend is all but here. After a long and harsh winter in NY, this is particularly welcome.
Now, this is not a new product, although has been a bit hard to come by recently. Regardless, this and the chocolate variety are gems if you haven't tried them yet.
Now, this is a solid choice, but I would reach for Trader Joe's Sublime Ice Cream Sandwiches every single time over anything else in the dessert aisle. However, with that sublime-ness comes a heft dose of calories.
If you are more calorie conscious, then this should be the next go to ice cream item. This is a cone that is bite sized. Each one is maybe three bites.
The genius in this product is in its design. The chocolate coating is thick enough at the bottom to prevent leaking. The inside of the cone has a super fine coating as well to prevent the cone from getting soggy.
The top of this vanilla ice cream is coated at the top to both add texture and prevent the dreaded ice cream drip. The vanilla ice cream is good, but nothing amazing. It's not the type of vanilla where you can see the flecks of vanilla in the ice cream. But for the bite or two here, that isn't necessary.
Keep them in the freezer until you are ready to consume, because as much as the coating keeps this item together, it's still ice cream and will still melt pretty quickly.
For $2.99 this is a great buy and is often in short supply. Both this and the chocolate variety are solid choices in the freezer section.
Here is the visual run down of what you get if you buy this product:
The box of Trader Joe's Mini Hold the Cone Vanilla Ice Cream Cones: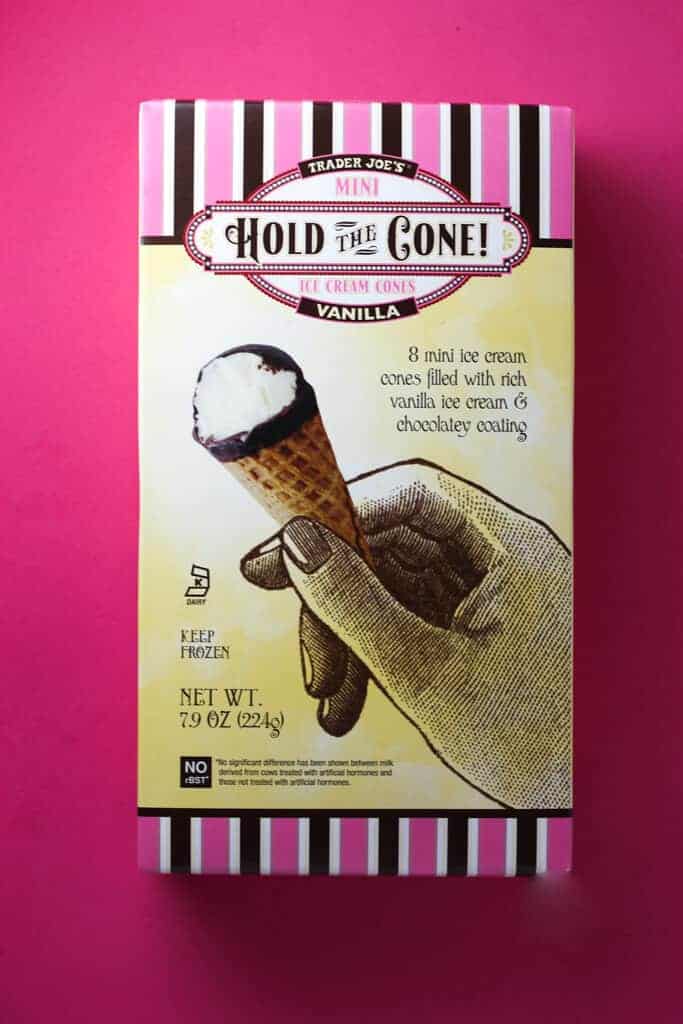 The nutritional information:
The ingredients:
How Trader Joe's describes this product:
Out of the package you get:

After being taking a bite to reveal the inside of these:
Would I buy this again? Yes, I would buy Trader Joe's Mini Hold the Cone Vanilla Ice Cream Cones again. They are a respectable amount of calories for a very tasty treat.
Want to see more items I've reviewed from Trader Joe's? Click on Thoughts & Reviews of Trader Joe's for a searchable list.
Did you try it? Let me know what you think in the comments section!
10