The pros:  Trader Joe's Roasted Potatoes with Peppers and Onions is a well done all in one bag of potatoes, onions, and peppers.
The cons:  This is primary roasted potatoes rather than onions or peppers. If you are hoping for crisp veggies, then make sure to make this in a pan instead of the microwave. The bag cannot be resealed.
The verdict:  If you are in a smaller household or perhaps you are just lazy. Then if minimal prep work would make you happy, then this is a perfect bag all prepped and ready to go. This is a pound and a half of mostly potatoes, but also peppers and onions as well. There is no chopping or prepping to do other than pour into a bowl or pan.
I opted to make this in a pan. I like crisp potatoes (and onions and peppers for that matter). You won't get crispiness in the microwave oven even though that is the quickest path to food happiness here. What came out of the pan were near homemade roasted potatoes with some peppers and onions mixed in. The flavoring is what makes this product special.
I came from a household where salt and pepper were referred to as "exotic spices." My palate (and spice cabinet for that matter) have thankfully grown since then. While the star here is clearly the potatoes, there is a really good spice mixture here. Salt, rosemary, and garlic are the primary flavors that shine. You won't need any extra oil for the pan either. There is just enough fat in this to get a good sear on the potatoes, but not enough to allow this dish to taste greasy.
For $2.99 this is a great freezer staple whether you need a quick side for breakfast with some eggs or with dinner. I liked it and would buy this again.
Here is the visual run down of what you get if you buy this product:
The bag of Trader Joe's Roasted Potatoes with Peppers and Onions:
The nutritional information: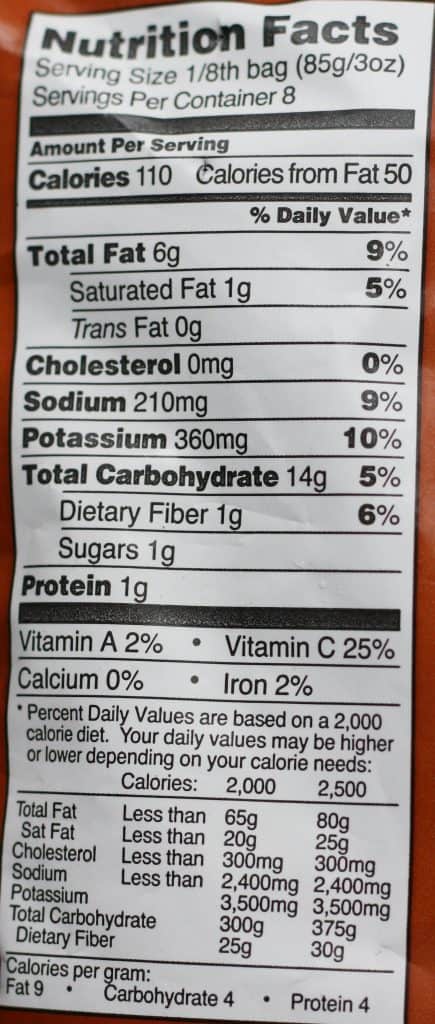 The ingredients:
How to prepare:
Out of the package you get:
After being cooked you get:
Want to make this dish better? Add some of Trader Joe's Raclette Cheese:
Would I buy this again? Yes, I would buy Trader Joe's Roasted Potatoes with Peppers and Onions again.
Want to see more items I've reviewed from Trader Joe's? Click on Thoughts & Reviews of Trader Joe's for a searchable list.
Did you try it? Let me know what you think in the comments section!
376