Babka. I'm not going to lie to anyone when I say that the Chocolate Brooklyn Babka might be a staple in my household. But it does debate whether it is meant for breakfast or dessert because I've consumed it at both times of the day. Sometimes twice a day.
Taste
Now, this is far less decadent than the chocolate variety. The chocolate variety is very in your face sweet and deeply full of chocolate flavor.
This reminds me more of a cinnamon roll made into a loaf. And not quite as moist overall.
But it is way more decadent than Trader Joe's Cinnamon Croissant loaf that is also showing up around this time as well.
I'd recommend toasting this babka for the best flavor. It was ok at room temperature, but much improved when warm (but then again what bread isn't a bit more amazing warm?)
There are plenty of swirls of cinnamon throughout which makes me believe that this would also make a pretty amazing French Toast should you not use it when it is totally fresh. In fact, French Toast is best when the bread is just a bit stale. You'll have more than enough flavor here to really make that pop.
So if you are looking for a halfway point between the croissant loaf and say the jumbo cinnamon rolls, then consider picking this one up.
Frequently asked questions
The following are common questions I get about this product:
Does Trader Joe's sell babka?
Yes! They sell two varieties: cinnamon and chocolate.
Is Trader Joe's babka good?
Both babkas are solid picks
Can you freeze Trader Joe's babka?
Yes, this product can easily be frozen and defrosted when you are ready to enjoy it.
Overall
For $4.99 it isn't bad. But if you are a Seinfeld fan then you might remember this quote: "Cinnamon takes a back seat to no babka. People love cinnamon. It should be on tables at restaurants along with salt and pepper. Anytime anyone says, 'Oh this is so good, what's in it?' The answer invariably comes back, 'Cinnamon.' 'Cinnamon.' Again and again. Lesser babka?? I think not."
So for some, this is the superior babka. For me, I take after Elaine. I prefer chocolate.
But make no mistake, both are pretty solid.
Would I buy this again? For me, I still feel the chocolate is the superior babka. But both are good.
Did you try it? Let me know what you think in the comments section!
Product Photos
The package of Trader Joe's Cinnamon Brooklyn Babka:
The nutritional information and the ingredients
Out of the package you get: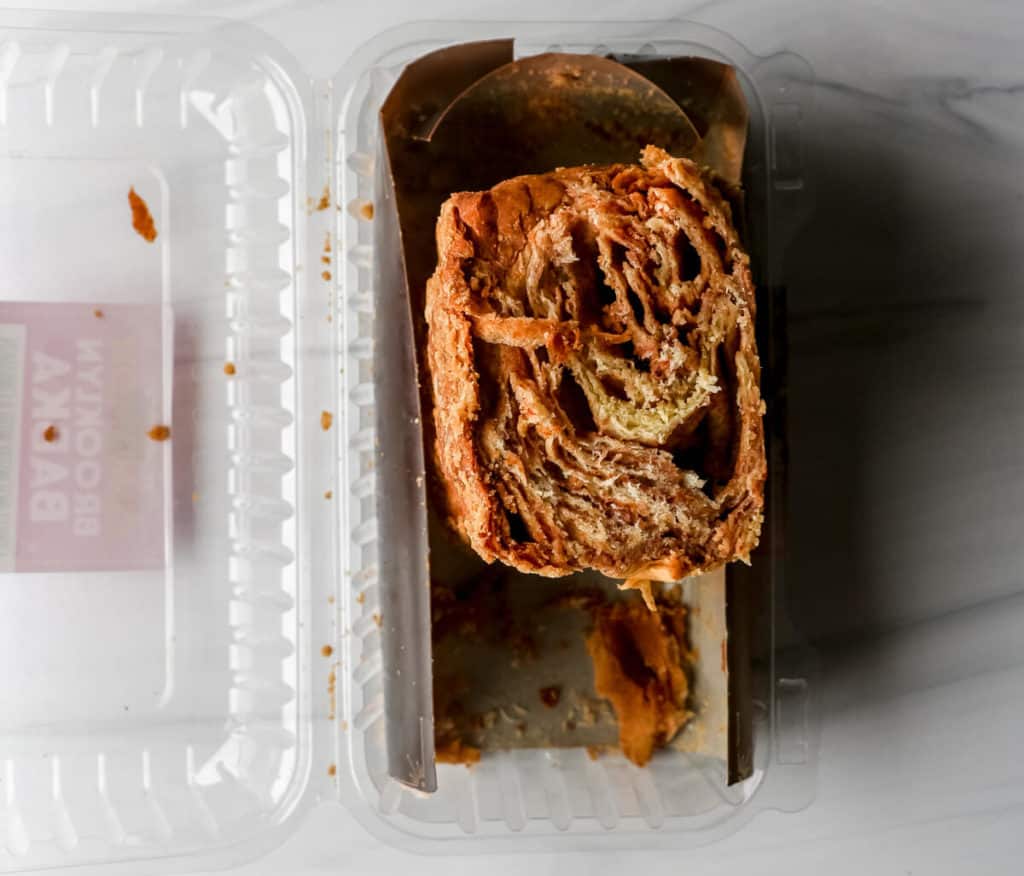 Want to see more items I've reviewed from Trader Joe's? Click on Thoughts & Reviews of Trader Joe's for a searchable list.
The Bottom Line
Don't forget to share your thoughts by going to the "user review" at the bottom of the box (click on the number of stars you believe this product deserves) and leave a comment below.
You can also FOLLOW ME on Facebook, Instagram, Twitter, and Pinterest to see what I'm up to.
Trader Joe's Cinnamon Brooklyn Babka
Product Name: Trader Joe's Cinnamon Brooklyn Babka
Product Description: Trader Joe's Cinnamon Brooklyn Babka is a seasonal variety of the popular Brooklyn Babka
Price: $4.99
Summary
Trader Joe's Cinnamon Brooklyn Babka is a seasonal variety of the popular Brooklyn Babka which comes in chocolate year round.
Taste

Value

Worthy of Repurchasing
Pros
Delicious
Reminds me of a cinnamon roll
Cons
Seems to be seasonal
I still liked the chocolate one better.
130