The pros:  Trader Joe's Cod Provencale is one of the better single meals that you can reach for in the frozen section.
The cons: Not quite as pretty as they package would have you believe. The cod does not taste seasoned at all.
The verdict:  Trader Joe's must hire one hell of a food photographer. This is another case of pretty packaging but the reality once you lift the cover is so very different. Now, to be fair after trying the wild salmon in yogurt and mint sauce, where the taste and appearance were equally bad. Trader Joe's Cod Provencale on the other hand, might be just as ugly but actually tastes pretty good.
My biggest complaint about the decent sized portion of fish was that it was not seasoned in any way. There was no discernible salt or pepper here. There is no sear for flavor. Just fish. I packed a lemon with my lunch to brighten things up. This came out just about equally decent in the microwave as the oven. And yes, I've purchased this twice and tried it out both ways.
The very bland fish is complemented by brown and wild rice which might run the risk of being lackluster too. However, the saving grace here is the ratatouille. This pulls together two bland elements into something far more flavorful.
What you end with here is a variety of textures and flavors. The way it is set up in the tray, however not beautifully presented allows you to grab a bite from every element present. The tomatoes pull this together along with the zucchini, eggplant, onions, and peppers.
For $3.99 this is one of the better options in the freezer aisle. Personally, I'd rather reach for any of the Indian entrees first over this. But if you aren't into Indian or reluctant to try it, then this is probably one of the better items in the bunch.
Here is the visual run down of what you get if you buy this product:
The box of Trader Joe's Cod Provencale:
The nutritional information, the ingredients, and how to prepare: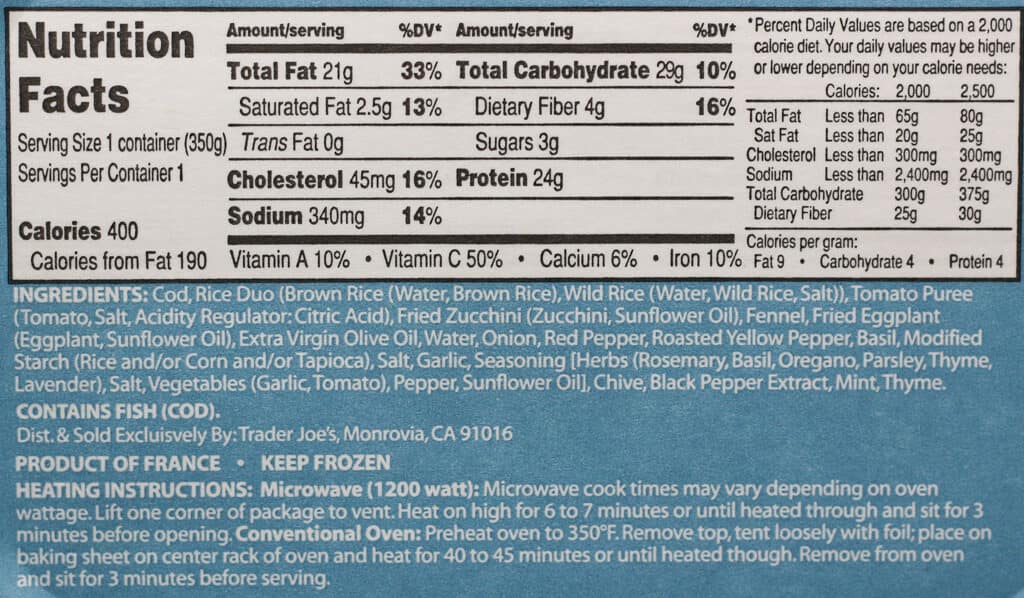 After being cooked you get:
Would I buy this again? If I had to reach for a frozen meal, it would be an Indian entree every time, followed by the Soup Dumplings. But Trader Joe's Cod Provencale wasn't a bad option either as long as I knew I could use my oven to heat this up.
Want to see more items I've reviewed from Trader Joe's? Click on Thoughts & Reviews of Trader Joe's for a searchable list.
Did you try it? Let me know what you think in the comments section!
57