The pros:  Trader Joe's Puttanesca Sauce is a thick sauce that has a lot going on. It's got sweet tomatoes, but savory elements too with a touch of heat.
The cons: If you are not a fan of olives, capers, or the subtle taste of anchovies, then this is not the sauce you should reach for.
The verdict:  
The history of Puttanesca Sauce is a source of a bit of controversy. The jar here tells one story of how this sauce came to be. The story on the jar is quite tame as compared to the other story of how the sauce came to be. The other has to do with the name translating something to "Whore Sauce." Yes. You read that correctly. Food Reference has the origins with the ladies of the night. Thrillist thinks the history is somewhere in between the story on this jar and Food Reference and Slate disagrees completely with the prostitute angle. Perhaps this is why Trader Joe's doesn't reference it on the jar, but the illustration has two women serving a man who is at best wearing shorts. Regardless of where this sauce's history actually is, it's a sauce of contrast: sweet, savory, spicy and a bit umami.
While no one can seem to agree where this sauce really came from, but there are certain ingredients that food experts can agree upon: tomatoes, olive oil, garlic, olives, capers, and anchovies. This sauce is a bit spicy too from red pepper flakes being added as well. This is one of the thickest sauces I've had from Trader Joe's. The tomato sauce itself is a mix of puree and whole tomatoes, so there are lots of chunky goodness here. It's also packed with olives (black and kalamata). If you are wondering about the anchovies, no, they weren't assertive here. Perhaps that is a good thing. It just adds that "hmmm....what is that flavor" to this. The olives and capers add the flavor of brine here.
This sauce even seemed a bit spicier than Trader Joe's Arrabiata Sauce. In either case, this sauce can be modified to your liking. If you want it spicier, then just add a few more red pepper flakes. If it's not umami enough for you then Trader Joe's Umami Paste is a good compliment when mixed with some sauce. Whether you eat it as is, or make it to your own liking as a jarred sauce it's pretty good.
For $2.99 if you love the flavor of Puttanesca, this is worth reaching for. I liked it. With some fresh spaghetti it ate like a meal on its own.
Here is the visual rundown of what you can expect if you purchase this item:
The jar of Trader Joe's Puttanesca Sauce:
The nutritional information: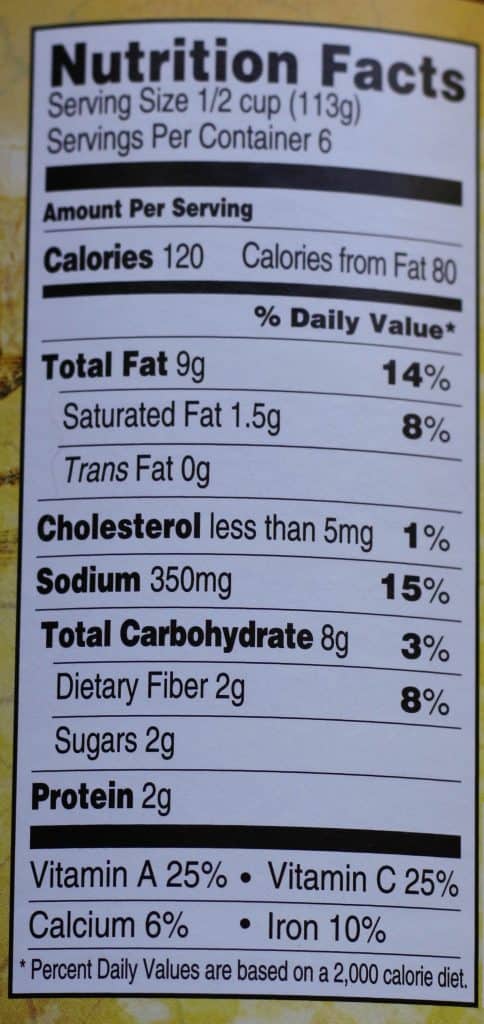 The ingredients:
How Trader Joe's claims Puttanesca Sauce came to be:
With some home-made spaghetti:
Would I buy this again? While not my favorite sauce, Trader Joe's Puttanesca Sauce will definitely hit a note with those who enjoy a thick sauce with lots of savory flavors.
Want to see more items I've reviewed from Trader Joe's? Click on Thoughts & Reviews of Trader Joe's for an alphabetized list.
Did you try it? Let me know what you think in the comments section!
22