The pros: Trader Joe's Smoked Salmon Poke Bowl is another new addition to the refrigerated section and has a lot of familiar flavors.
The cons: My brown rice was a bit more on the undercooked side.
The verdict:  I don't know about you, but I keep a bucket list. On my to do list, is visiting Hawaii. Hawaii seems so much more appealing than New York most days. Especially this particular April where I haven't had a chance to put away my winter clothes.
So, one thing I can't do in this review is comment on the authenticity of this poke. All I can share with you is what this tastes like.
If you've ever had sushi. Then this is essentially a deconstructed sushi bowl.
Now, coming from Trader Joe's, that had possibility of going so wrong. I've tried their sushi. It's one of the few categories I would say that need to go back to the drawing board (or at least give up that shelf space for something that tastes far better). Sushi should be enjoyed immediately. So I had some reservations on how this might turn out.
In place of white rice, you have the nuttier brown rice. Mine was a bit more al dente than I would normally like, but that was my only complaint here. Now, this is not a bowl that I think will make every palate happy. So if pickled veggies, fish, nori, and a spicy ponzu wouldn't normally make your palate happy, then feel free to skip this one.
There is some smoke to the salmon here, but it's otherwise mellow. The dressing adds both flavor, a nice acidity, and a bit of heat. Tasting it one its own, it was quite pungent. This is a meal of contrasts of textures, flavors, pairings. And as a whole, as a sushi lover, I enjoyed this exponentially more than I did the Tempura Shrimp Crunch Rolls in the sushi section.
Like the Banh Mi Bowl, everything here works well together. For $5.99 this would make a nice light meal. It wasn't quite as filling as the Banh Mi, but still made for a nice lunch. So, it's a good dish meant for the right palate. But you may still want a snack with your lunch that day.
Here is the visual run down of what you get if you buy this product:
Trader Joe's Smoked Salmon Poke Bowl:
The nutritional information:
The ingredients:
Out of the package you get: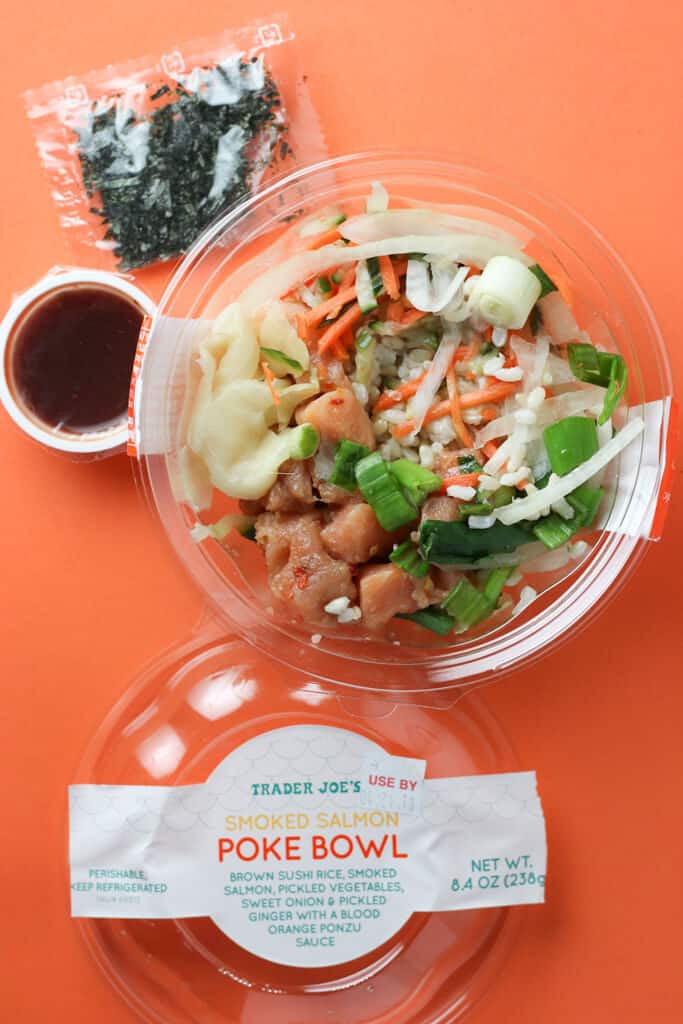 Would I buy this again? Yes, I would buy Trader Joe's Smoked Salmon Poke Bowl again. It would make for a nice light lunch. It's a nice addition so as long as you appreciate sushi-esque flavors.
Want to see more items I've reviewed from Trader Joe's? Click on Thoughts & Reviews of Trader Joe's for a searchable list.
Did you try it? Let me know what you think in the comments section!
15