The pros:  If you like very sweet grape juice, then you'll like Trader Joe's Sparkling White Grape Juice Chardonnay. You'll like it more if you are looking for a non alcoholic beverage to serve.
The cons:  My bottle didn't pop like a Champagne bottle would and was somewhat difficult to twist off. Reminded me of Welch's white grape juice with some effervescence. You will not be able to reseal this once it's open.
The verdict:  For $2.99 this is a unique if not slightly misleading item. I was expecting some essence of Chardonnay, however this was extremely sweet and only slightly fizzy. I thought Trader Joe's Triple Ginger Brew did a better job of keeping the bubbles in. If you are serving this to kids or someone who prefers non-alcoholic drinks it's fine, but if you are wishing for any wine taste, this wasn't it. It's like drinking Welch's white grape juice, but very very yellow. I'd pass on buying this again.
The bottle of Trader Joe's Sparkling White Grape Juice Chardonnay:
The nutritional information and ingredients: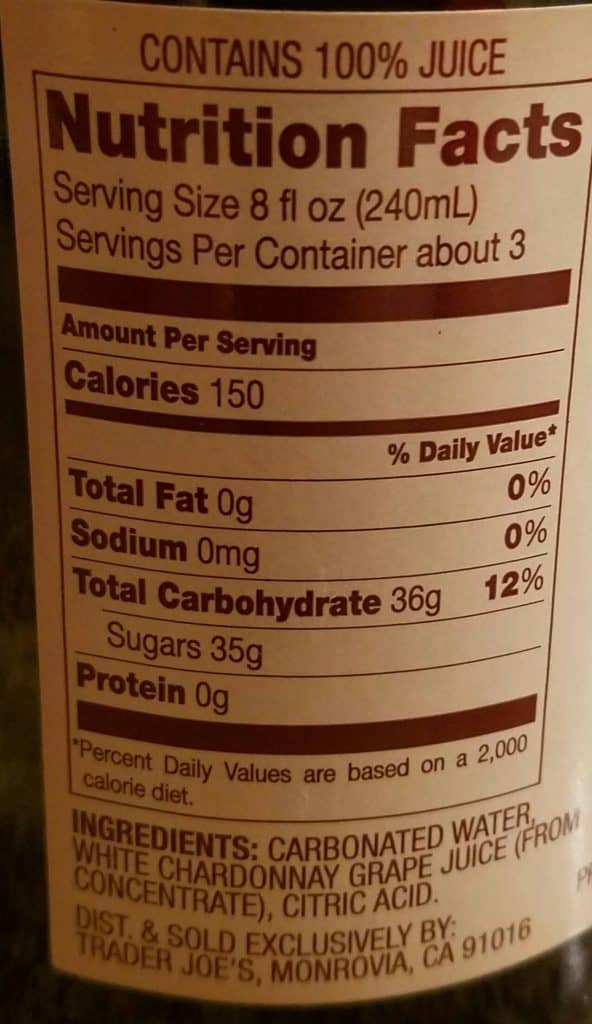 About this product:
Out of the package you get:
Would I buy this again? I enjoyed Trader Joe's Sparkling Blueberry Flavored Juice Blend, Trader Joe's Sparking Cranberry Flavored Juice Blend, and Trader Joe's Sparkling Apple Cider more than I enjoyed this and would choose to reach for those before this.
Want to see more items I've reviewed from Trader Joe's? Click on Thoughts & Reviews of Trader Joe's for a searchable list.
Did you try it? Let me know what you think in the comments section!
99