Even breakfasts can be a lazy event for me. I want something filling and not something that will cost me an hour workout later in the day. If you enjoy oatmeal in the morning and enjoy the texture of a risotto you'll probably like Trader Joe's Frozen Steel Cut Oatmeal. For $1.69 you are paying for comfort of knowing oatmeal with texture (unlike instant oatmeal) is ready in under 4 minutes or less. There is no way to get steelcut oatmeal ready in that amount of time. It's still less than what you might pay at your local McDonalds and for far less in the calorie count. Don't let the picture on the package fool you either, you'll have to add your own brown sugar and fruit if you so choose to.
Here is a quick visual rundown of what you get if you buy this product:
In the freezer section:
The nutritional information: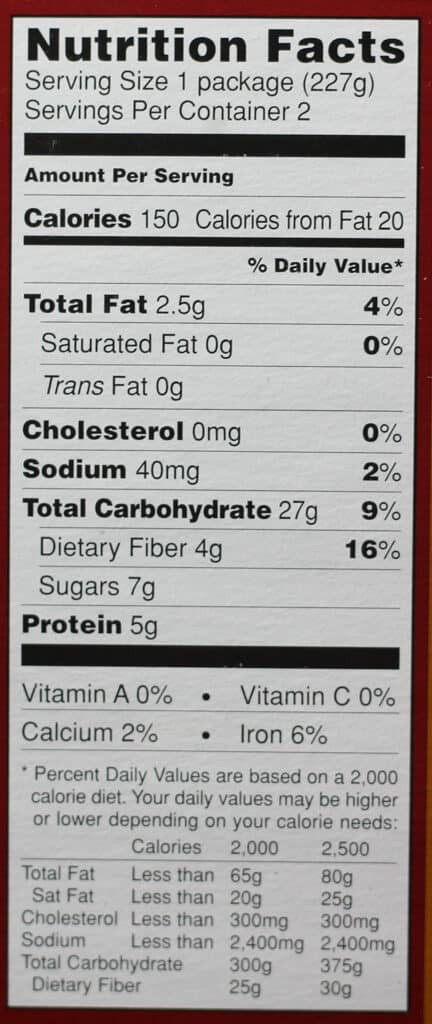 The ingredients:
How to make it:
How Trader Joe's describes this product:
What it looks like out of the box in which there are 2 pouches:
After 2 minutes in the microwave:
Needed another minute in the microwave to bring it up to being warm. The finished product:
If time is an issue and like a hearty textured rich oatmeal, then yes check this out. With only 2 packages per box you are definitely paying for the time saving factor as compared to buying a can of oatmeal. That being said, I'm pressed for time and I thought this was good tasting. Does it probably require a bit more in the taste department? I thought so.
It's a very plain oatmeal with hint of brown sugar and maple flavoring that I found to be a bit too subtle. I added my own maple syrup and cinnamon to make it more enjoyable and I imagine many people at home would find it best to add some sort of additional flavoring and fruit to this. It was very hearty and would keep you full until lunch.
This is not the textureless mushy instant oatmeal in a pouch that you get from the grocery store. This ate like an oat risotto, which is how oatmeal is supposed to be enjoyed. If you've never had risotto its a bit al dente with a definite creaminess that will comfort you and win you over. Have you tried it? Let me know what you think.
Want to see more items I've reviewed from Trader Joe's? Click on Thoughts & Reviews of Trader Joe's for a searchable list.
74