Have you ever looked at the calorie count of an item and put it back? Or prayed it was really good to justify the calories? Well, that's pretty much how I felt after I picked up Trader Joe's Kunefe. While this box isn't big, this packs a heavy hit of calories.
Taste and review
But oh was it worth it.
Every. Single. Bite.
Here is an item that I nearly dismissed on the calorie count, I thought I would be writing to tell you that 2 servings were way too big (it really is not) and that you wouldn't need quite as much of the sugar syrup that was included.
On each of those, I was wrong.
So in the box is a small dessert that will fit on a salad plate. It is quite small. I now think of it as portion control.
It took just under 20 minutes in my toaster oven to achieve proper doneness.
While I was waiting I was really pondering how much of the syrup I would need. I even wondered if honey would pair well with this. For the sake of reviewing, I kept everything as is.
And I'm glad I did. After taking this out of the toaster oven, I was rewarded with a golden crisp nest-like disc with melty, gooey cheese in the middle.
After pondering what to do about the syrup packet, I added half. I looked at it again and it looked like the Kunefe had consumed all of the liquid. I added the rest of the packet.
And then there was a teeny tiny bag that I haven't noticed initially. There was a plastic bag with a smidge of pistachio nuts. Now, when I say a smidge, I mean a smidge. Like someone had the job of grounding up exactly 3 nuts per bag. Maybe even 2.5. This was a super tiny bag and I was wishing for more.
When I finally went in for a taste, I portioned out a quarter of the Kunefe figuring that would be adequate. Nope.
The phyllo is so finely shredded it adds texture and holds up well against the sweet syrup that was added before serving. So you are hit with crispy and gooey, melty cheese. You are also hit with savory and sweetness between the syrup and cheese.
Despite thinking it would be too much, it was enough syrup.
I just wished the pistachios were added a bit more here. Because there were so few of them I can't say they contributed to the dish in any way.
Overall
I can honestly say I've tried a LOT of sweets this year, but out of everything that I've tried, this is hands down one of the best items I've tried for 2019.
In terms of authenticity, I've never had a dish like Kunefe, but if you can compare them, I'd love to hear it in the comments section.
For $3.99 this is totally worth a try.
Would I buy this again? Trader Joe's Kunefe will likely end up in my cart again.
Did you try it? Let me know what you think in the comments section!
Product photos
The box of Trader Joe's Kunefe: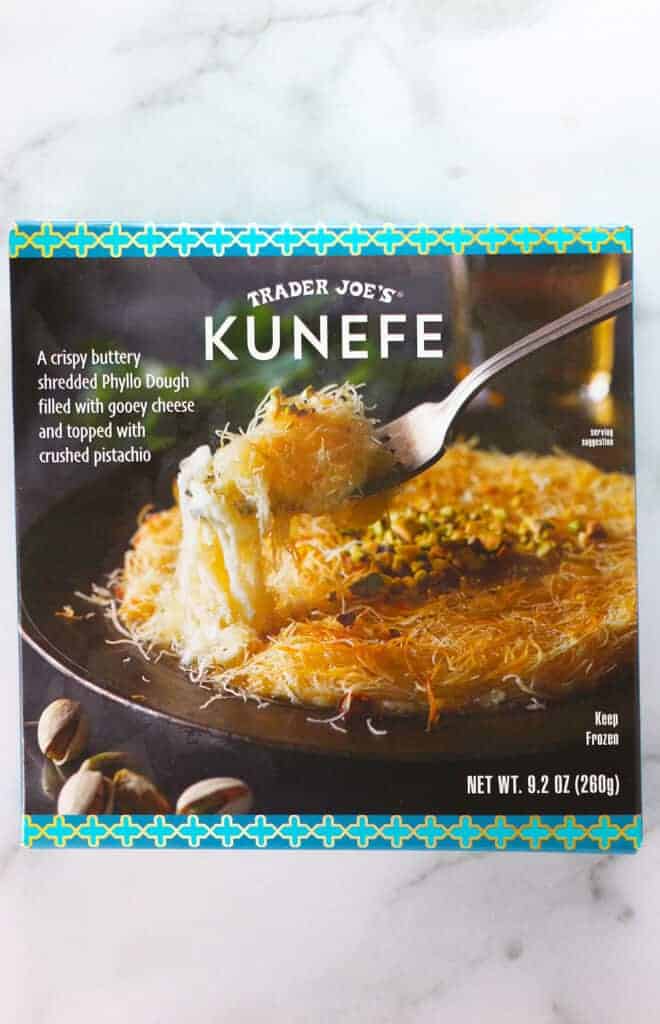 Calories and ingredients
Directions
Out of the package you get:
After being cooked you get:
Want to see more items I've reviewed from Trader Joe's? Click on Thoughts & Reviews of Trader Joe's for a searchable list.
Product Name: Trader Joe's Kunefe
Product Description: Trader Joe's Kunefe is a frozen Middle Eastern dessert
Price: $3.99
Summary
Trader Joe's Kunefe is a new frozen Middle Eastern dessert
Taste

Value

Worthy of Repurchasing
Pros
Delicious
A dessert all about contrast- it's crunchy, creamy, oeey and gooey, yet sweet and crunchy
Cons
The amount of pistachios is minuscule and doesn't end up adding much to this dish.
93