After having some of Trader Joe's Brookies, I guess my next view has to be some lighter fare. And just in time for dieting season is this frozen entree. From what I've been seeing posted around the internet, there are going to be some new additions in the freezer aisle. Certain items are scheduled to be discontinued like Trader Joe's Cream Cheese Broiche Pastries, their French Toast, and even the tasty Sunflower Seed Drops are rumored to be discontinued. So with extra freezer room, I guess we will be seeing new items hitting shelves.
Taste and review
Here is one of them. There is already a vegetable Pad Thai option at Trader Joe's in the freezer section. From a quick glance at the ingredients, this appears to be vegan although the package does not appear to be labeled as such.
And while the packaging here is the familiar hue of purple that many associates with eggplant, there is none of the purple variety in this box. Nope, this is green eggplant.
And as if they timed this well, consuming this entire box will only be 200 calories. There is no rice in this one, however, you might want to consider making some to make up for a few of the flaws with this dish.
First off, this is quite salty. Eat this whole package and its half of all the sodium you need in a day. And then there is the other detail, which is medium to medium-hot in heat.
The package seemed to assure me that it would be that bad. I disagree. It downright slowed me down.
I'd have a bite. And then have to pause. And then I'd have another bite. If I were at work, I'd need about 90 minutes to eat this without rice.
If you are willing to look past the over-salted and under-stated heat level mentioned on the package you do have a flavorful eggplant dish. The Thai basil flavor comes right through and is a pleasant compliment to the flavors here. And if you are careful enough, the chilis do add flavor as well as a strong kick. Mine contained multiple red little peppers of pure heat.
I did have one other issue with this-the microwave instructions. I stopped mine at the 4-minute mark. Not only to remove the cover but to stop the cooking process. Mine was steaming hot, so I recommend checking yours to see if it is done.
Overall
Otherwise, for $3.49, it wouldn't be a bad option for lunch. I'd still recommend bringing a side with this.
Did you try it? Let me know what you think in the comments section!
Product photos
The box of Trader Joe's Spicy Thai Eggplant:
Calories
Ingredients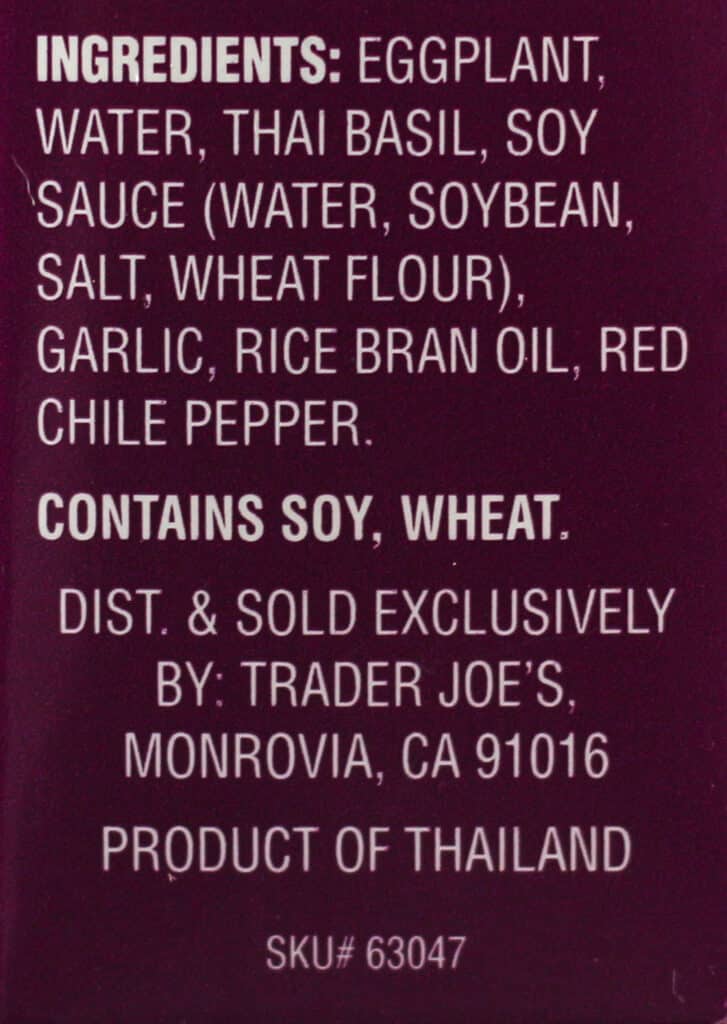 Directions
How Trader Joe's describes this item:
Out of the package you get:
After being cooked you get:
Want to see more items I've reviewed from Trader Joe's? Click on Thoughts & Reviews of Trader Joe's for a searchable list.
The Bottom Line
Don't forget to share your thoughts by going to the "user review" at the bottom of the box (click on the number of stars you believe this product deserves) and leave a comment below.
You can also FOLLOW ME on Facebook, Instagram, Twitter, and Pinterest to see what I'm up to.
Trader Joe's Spicy Thai Eggplant
Product Name: Trader Joe's Spicy Thai Eggplant
Product Description: Trader Joe's Spicy Thai Eggplant is medium hot heat in a frozen package.
Price: $3.49
Taste

Value

Worthy of Repurchasing
Pros
A flavorful frozen item that based on the ingredients appears to be vegan
Ready in about 4 minutes
Cons
If you are sensitive to spice, you need to steer clear of this
Quite salty as well
84