As I've stated previously, I'm not gluten-free and do not live with anyone who has any intolerance towards gluten. That being said, I always like to see how different food items compare to the "real stuff."
While on my latest trip to Trader Joe's, I walked past the pastas and noticed on that I hadn't seen previously: Trader Joe's Gluten Free Egg Fettuccine Pasta.
This stood out most notably because it's gluten-free. Now, I've tried my fair share of gluten-free pizza crusts and while they are getting better, they aren't quite a match for me compared to the traditional kind.
However, if you are gluten-free, then consider this the new Cauliflower Pizza Crust. This product deserves the same hype albeit with better results. It looks like pasta, tastes like pasta, and with sauce you'll be hard pressed to notice the difference.
The biggest differences I noticed were in cooking this: you'll absolutely want to make sure you get a fork out to separate this once it's in the water. Otherwise, you'll have a clump of pasta (most of which will be undercooked too). The directions were spot on with how long to cook this as well.
Out of the water and with some butter, there were some subtle taste differences but nothing drastic. You'll still be able to get that al dente texture.
There is a subtle nuttiness here that you would not have with regular pasta. Otherwise, this is a larger cut of pasta that looks for a sauce. I had mine with Trader Joe's Alfredo Sauce and some freshly grated cheese. I thought it was really well done for gluten-free.
To be honest, had someone served me this at dinner, I'm not sure I would have been able to tell that it was gluten-free.
For $3.99 this isn't cheap, but then again no fresh pasta is. Fresh pasta is always superior to boxed pasta and this is no exception.
As always, I always disagree with pasta serving sizes. While this box says three servings, I think it's a lot closer to 1-2 depending upon how hungry you are.
Otherwise, if you are gluten-free this is a terrific option. It's well done, it's fresh, refrigerated, and while it is perishable, the expiration date was about 2 months from when I bought it.
Here is the visual run down of what you get if you buy this product:
The package of Trader Joe's Gluten Free Egg Fettuccine Pasta: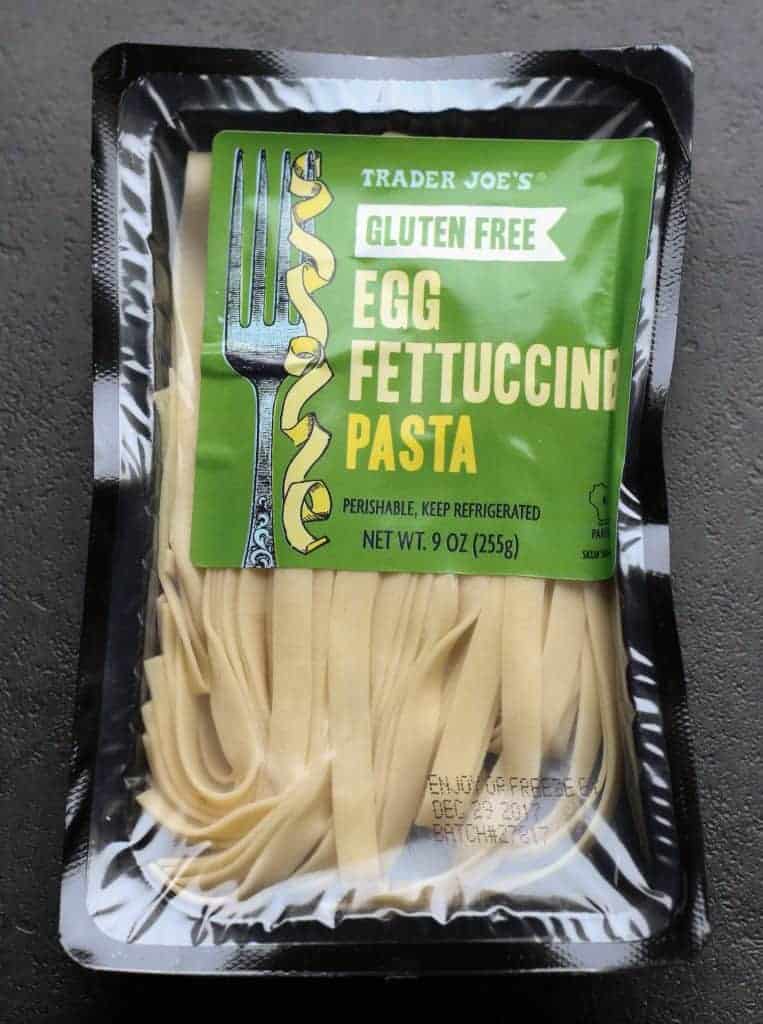 The nutritional information, ingredients and how to prepare:
After being cooked and tossed with some alfredo sauce, freshly grated cheese, and some pepper you get:
Would I buy this again? While I'm not gluten-free, Trader Joe's Gluten Free Egg Fettuccine Pasta was impressive. If it weren't for the higher price tag I would consider reaching for it more often. Trader Joe's offers may stuffed pastas like ravioli but there aren't many fresh pasta options that are just pasta. It's well done if gluten free is a must.
Want to see more items I've reviewed from Trader Joe's? Click on Thoughts & Reviews of Trader Joe's for a searchable list.
The Bottom Line
Don't forget to share your thoughts by going to the "user review" at the bottom of the box (click on the number of stars you believe this product deserves) and leave a comment below.
You can also FOLLOW ME on Facebook, Instagram, Twitter, and Pinterest to see what I'm up to.
Trader Joe's Gluten Free Egg Fettuccine Pasta
Product Name: Trader Joe's Gluten Free Egg Fettuccine Pasta
Product Description: Trader Joe's Gluten Free Egg Fettuccine Pasta is refrigerated and a great option for those who can't have gluten.
Price: $3.99
Summary
Trader Joe's Gluten Free Egg Fettuccine Pasta is a refrigerated option for those who are gluten free.
Taste

Value

Worthy of Repurchasing
Pros
Trader Joe's Gluten Free Egg Fettuccine Pasta is excellent.
Fresh pasta is always better than boxed, but this was the closest substitute for "real" pasta I've ever tried.
Cons
Price. Gluten free products seem to command a premium.
With any pasta product, I disagree with the serving sizes.  I think two servings is the realistic size expectations
129