While summer is technically still upon us, the fall items will be here soon enough. However, cleaning out my freezer I found something that I had purchased at the beginning of the summer season that may or may not still be available in the freezer section. Don't fret. This seems to be a seasonal item that makes frequent reappearances.
While mornings are cooler and darker than they were last month, I still long for the feeling of summer. So while a DeLorean or Michael J. Fox isn't available, my freezer will have to serve as my time machine. It's also an item that if you enjoy it, you might want to pick up a few of these. It is a good pie.
My husband is who I actually bought this for. He is the real lime fan between the two of us. Key Lime pie is a frequent request. While I don't make it, this was a good brand to buy. Now, the package says that there are six servings in this box. I tend to disagree. I think realistically, expect this to serve about four people unless your friends eat like birds. Serving size gripes aside, you actually are getting a really nice pie here.
This is one of those items that actually looks like the product that is pictured on the box. The crust is made up of graham crackers. They are sturdy enough to hold up the pie without crumbling too much. They have a nice texture and are just sweet enough.
The filling is what really shines. The filling is sweet and tart. It's also nice and smooth. It's a careful balance that this product does well. You won't pucker too much because it's sweet enough to balance the tartness of the limes. The sweetness does not hide the distinct key lime flavor. It only enhances it.
For $5.49, I wished I had bought a few more of these. If I see them again I will be picking up a few more. Otherwise, I'll have to wait until next summer. If you enjoy the flavor of lime or already know you like Key Lime Pie, then this is a solid choice to reach for.
Here is the visual rundown of what you get if you buy this product:
The box of Trader Joe's Key Lime Pie: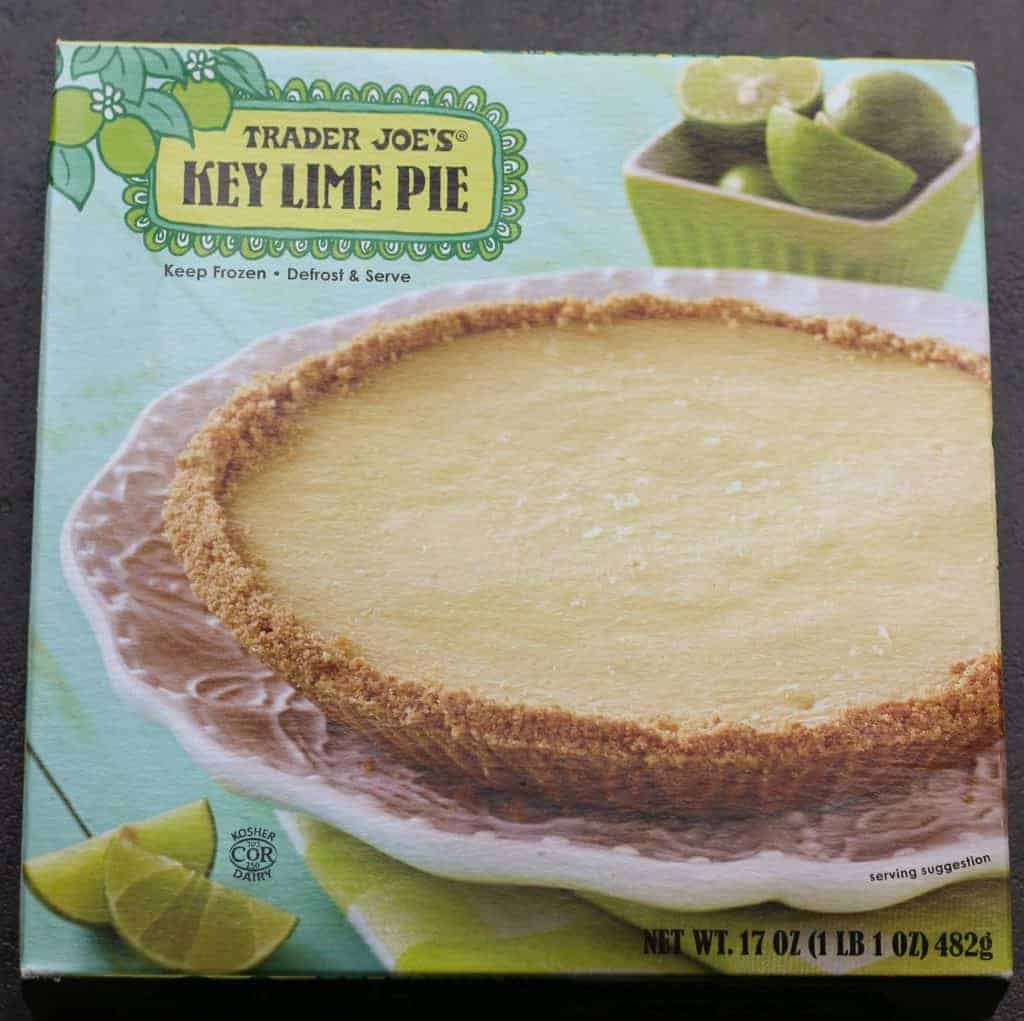 The nutritional information and the ingredients: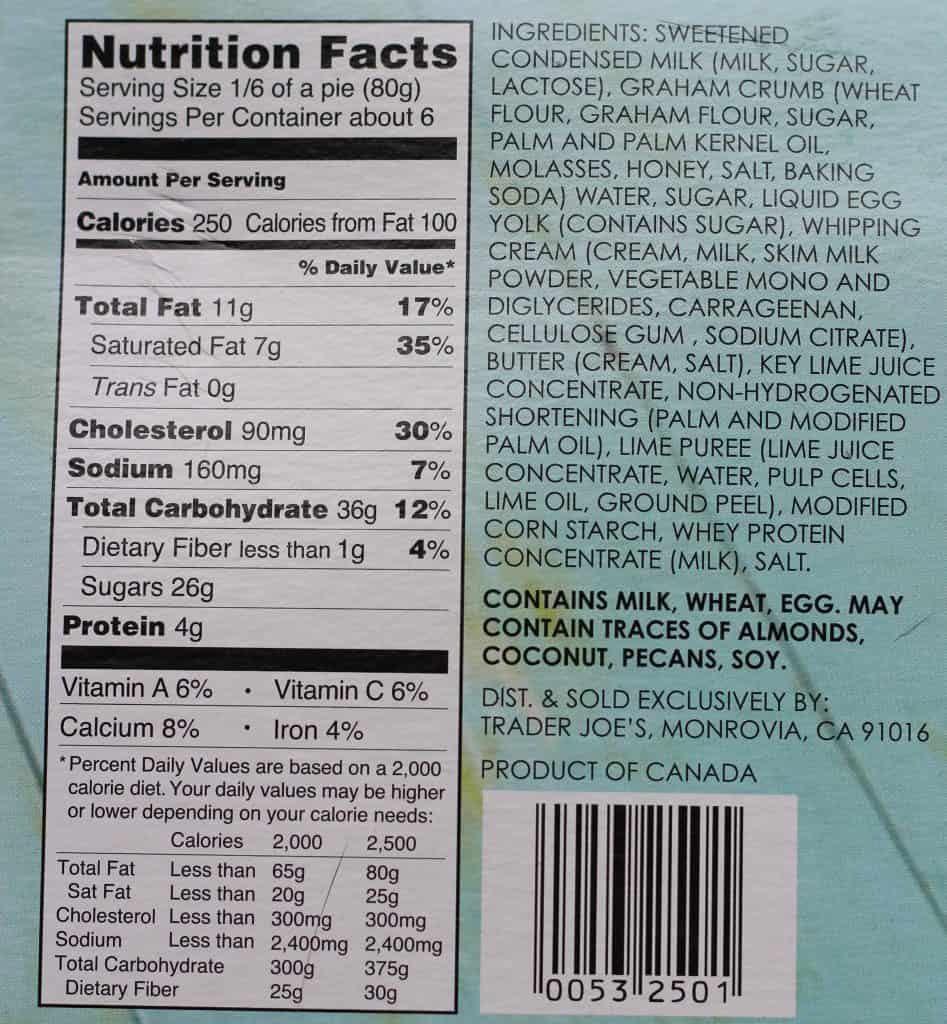 How Trader Joe's describes this item: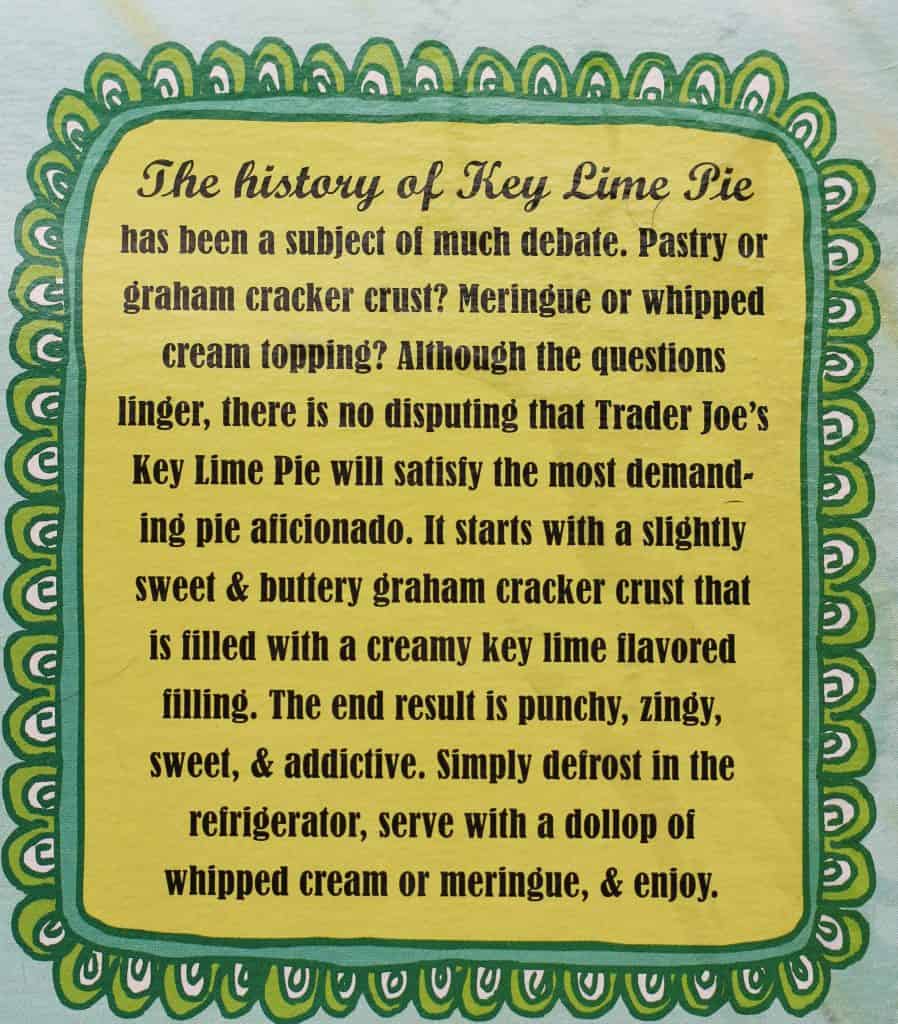 How to prepare:
Out of the package you get: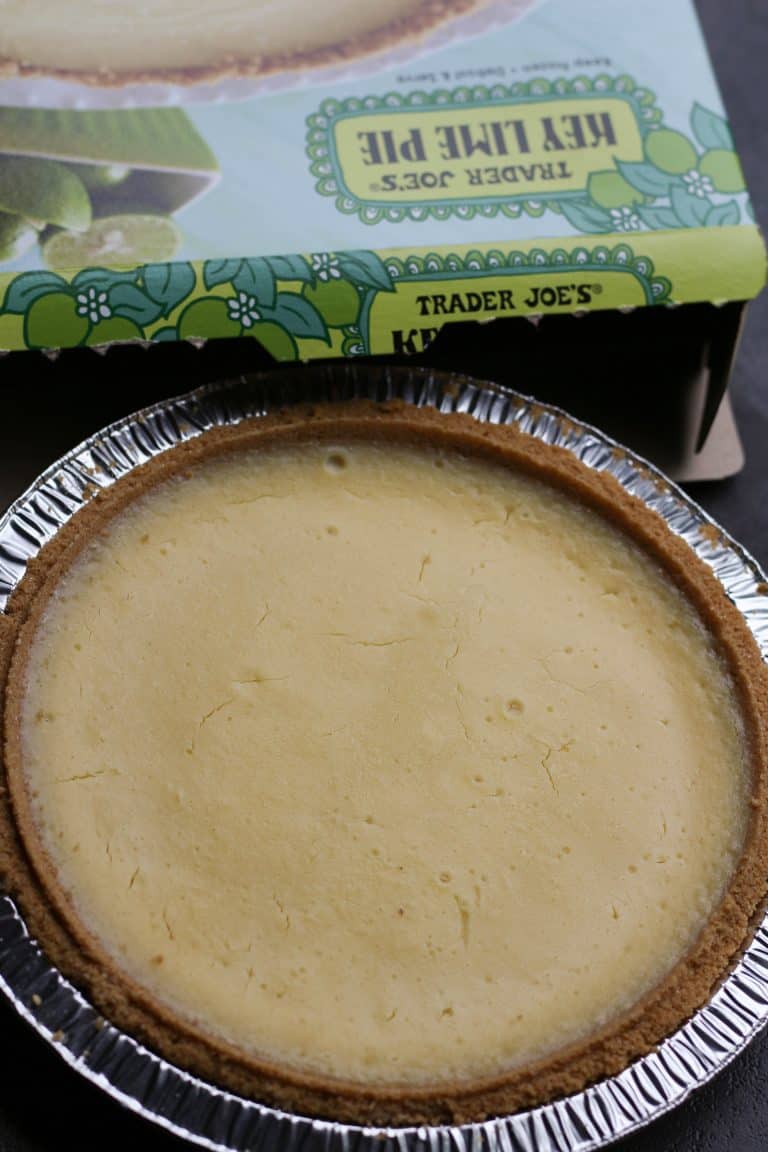 Would I buy this again?  Trader Joe's Key Lime Pie gets a yes from me (and my husband).
Want to see more items I've reviewed from Trader Joe's? Click on Thoughts & Reviews of Trader Joe's for a searchable list.
The Bottom Line
Don't forget to share your thoughts by going to the "user review" at the bottom of the box (click on the number of stars you believe this product deserves) and leave a comment below.
You can also FOLLOW ME on Facebook, Instagram, Twitter, and Pinterest to see what I'm up to.
Trader Joe's Key Lime Pie
Product Name: Trader Joe's Key Lime Pie
Product Description: Trader Joe's Key Lime Pie is a seasonal favorite.
Price: $5.49
Summary
Trader Joe's Key Lime Pie is found in the frozen desserts section, but only in the summer.
Taste

Value

Worthy of Repurchasing
Pros
Trader Joe's Key Lime Pie is a really well-done pie that can be defrosted and be a crowd-pleaser.
A really well-balanced pie for something that comes from a box in the freezer.
Cons
While this says six servings, this can comfortably feed four people.
A summer-only offering
44