The pros:  Trader Joe's Creamy Polenta is a solid polenta dish with minimal effort beyond microwaving. Reheats well. While the title of the dish is creamy, it actually has a fine risotto like texture to it. A dish that will compliment something substantial. Good balance of veggies mixed into this.
The cons:  If you are looking to serve this as a main dish, you might be disappointed. The flavor of the polenta is more muted and the veggies are more pronounced.
The verdict:  For $2.99, this is a great option to avoid standing over a hot stove and stirring it until you get the right consistency. There are also 3 very healthy servings in this bag. Very filling and a great way to get your veggies in as well. The word creamy is a touch misleading as there is still quite a bit of texture here and thats a good thing. As a side dish this should compliment the protein you are serving it with. In my case, I served it with some short ribs that I had made.
Here is the visual rundown of what you get when you purchase this item:
The bag of Trader Joe's Creamy Polenta with Spinach and Carrots: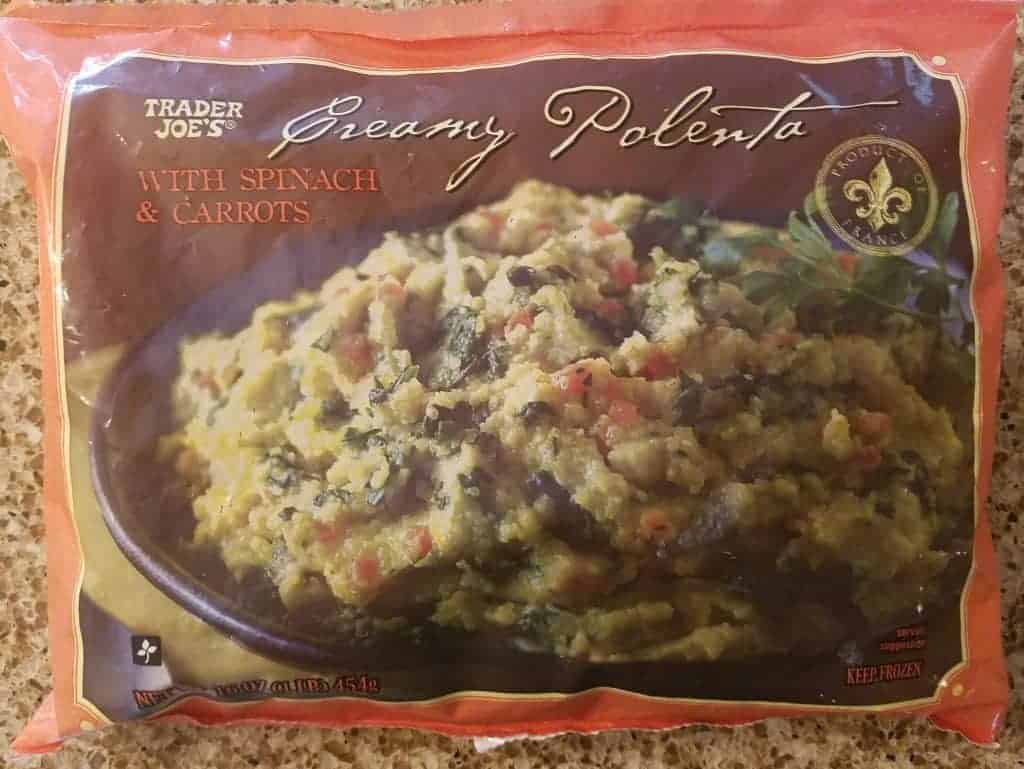 The nutritional information and the ingredients:
Trader Joe's description and how to prepare:
Out of the package you get something that looks like this:
After being cooked for 5 minutes covered on high you get:
After a quick stir you get something that looks a lot more like the picture on the bag:
Would I buy this again? Yes, it was nice to have a break from the pasta/potato/rice routine. It was also nice that the starch was loaded with veggies thus cutting down the amount of cooking you would have to do for yourself. There are three very generous servings here. Quick and easy right out of the microwave. What do you serve this with? Almost anything would go here. Including Red Wine Braised Short Ribs with Trader Joe's Umami Paste.
Want to see more items I've reviewed from Trader Joe's? Click on Thoughts & Reviews of Trader Joe's for a searchable list.
54