The pros:  Trader Joe's Chocolate Chip Cookies are a nice balance between soft and chewy without being too soft or crumbly.
The cons: If you are a crunchy cookie fan, then don't reach for these. Also, the hint of molasses is kind of misleading. Yes, there is molasses but isn't brown sugar just sugar with molasses?
The verdict:  Recently, Trader Joe's rolled out a new product called Deep Dish Chocolate Chip Cookie. That is one big cookie. A load of calories too, 2000 in one single box. Yes, a whole days worth. Don't get me wrong, it's a big cookie, but sitting there with a fork is clearly encouraged. Which does not bode well for the waist line. So if you need a chocolate chip cookie, don't fret. They have a far more reasonable sized package in the bread aisle.
If you are wondering, yes, these too are good. They are more dunkable, but are not dry where milk would be needed to rehydrate them. If left in milk too long, then yes, these will fall apart. They are soft, chewy and have all the ingredients you would expect in a chocolate chip cookie. The description to me seems just a touch off.
While molasses is mentioned, I found it hard to not notice that regular sugar was used. What happens when you mix molasses and sugar? Honestly, you have brown sugar. You've just reworded things. Otherwise, if you have had Entenmann's Chocolate Chip cookies, then these are very similar in taste and texture. Trader Joe's just happen to be a touch larger.
For $3.49 if you need a cookie fix without getting a knife out then these are perfectly acceptable for snacking, munching, or enjoying a dessert responsibly. If you want to throw caution, a diet, or don't care about calories, then the Deep Dish Cookie is a great alternative as well.
Here is the visual run down of what you get if you buy this product:
The bag of Trader Joe's Chocolate Chip Cookies as found in the bread aisle: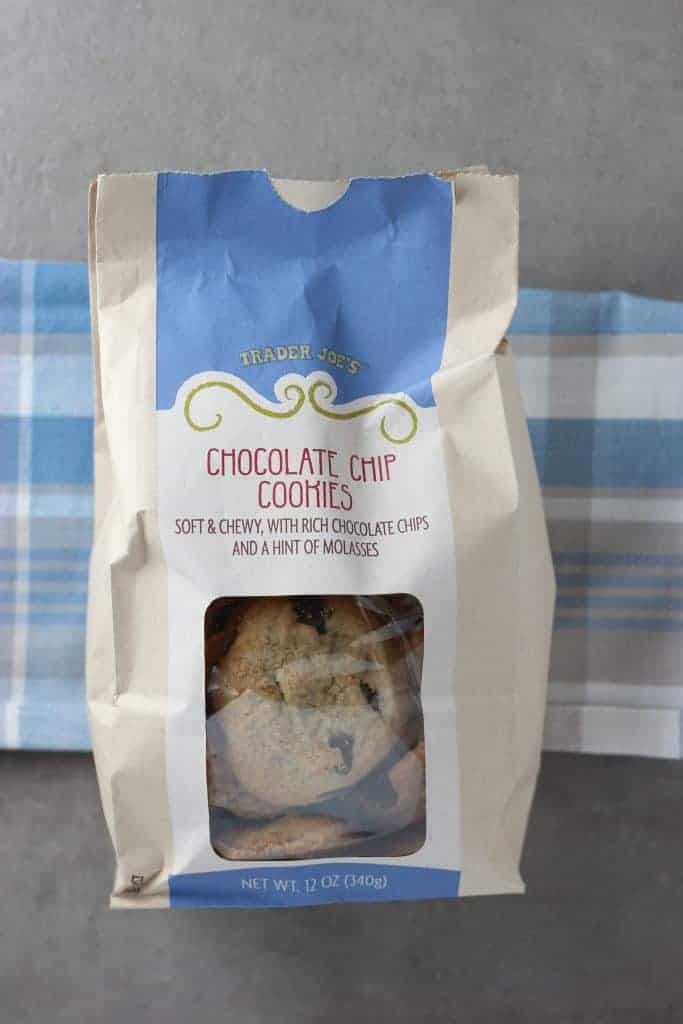 The nutritional information:
The ingredients:
Would I buy this again? Yes, I would buy Trader Joe's Chocolate Chip Cookies again.
Want to see more items I've reviewed from Trader Joe's? Click on Thoughts & Reviews of Trader Joe's for a searchable list.
Did you try it? Let me know what you think in the comments section!
16