The pros:  Trader Joe's Chocolate Filled Crepes are new, frozen, and from the oven they are pretty amazing.
The cons:  I should have bought more than one box. I have a feeling that once people realize that this is in the aisle that this will become the next hard to find product.
The verdict:  Yes, this week I've been on a little chocolate kick. I noticed something that I hadn't seen previously in Trader Joe's: frozen chocolate filled crepes. When I checked out the cashier assured me that she had tried them and they were good. I asked if they were better for breakfast or dessert. She said "dessert" and I'm inclined to agree. Unless you need a sugar rush in the morning. Otherwise, her advice was on point.
For $2.69 you are getting a package with seven little crepes. You do have some options in preparing these. You can put them in either the oven or the microwave. I opted for the toaster oven. In a matter of about 8 minutes, there were delicate crepes with nicely melted centers coming out of the toaster oven. I took a bite and I had to pause and smile from ear to ear. They were pretty sublime.
The crepe came out tender but not soggy. The star here is still the filling. In a matter of 8 minutes in the toaster oven this went from frozen to melty chocolate. The chocolate was on the sweet side but still tasted rich. It was a good balance between the amount of crepe and the filling. Each bite gave you just enough. The three that I polished off were a satisfying dessert as only 7 come in a box. If you are dieting, each crepe is a mere 110 calories each. It's a great exchange for the amount of flavor you are getting here.
Overall, worth the price and the calories. While not as good as going to a place where they make it fresh, they are a solid choice in the frozen aisle. I'd buy them again, but I wouldn't buy one box. I'm pretty sure I'm buying three more the next time I head out.
Here is the visual run down of what you get if you buy this product:
The box of Trader Joe's Chocolate Filled Crepes:
The nutritional information and the ingredients:
How to prepare:
Out of the package you get: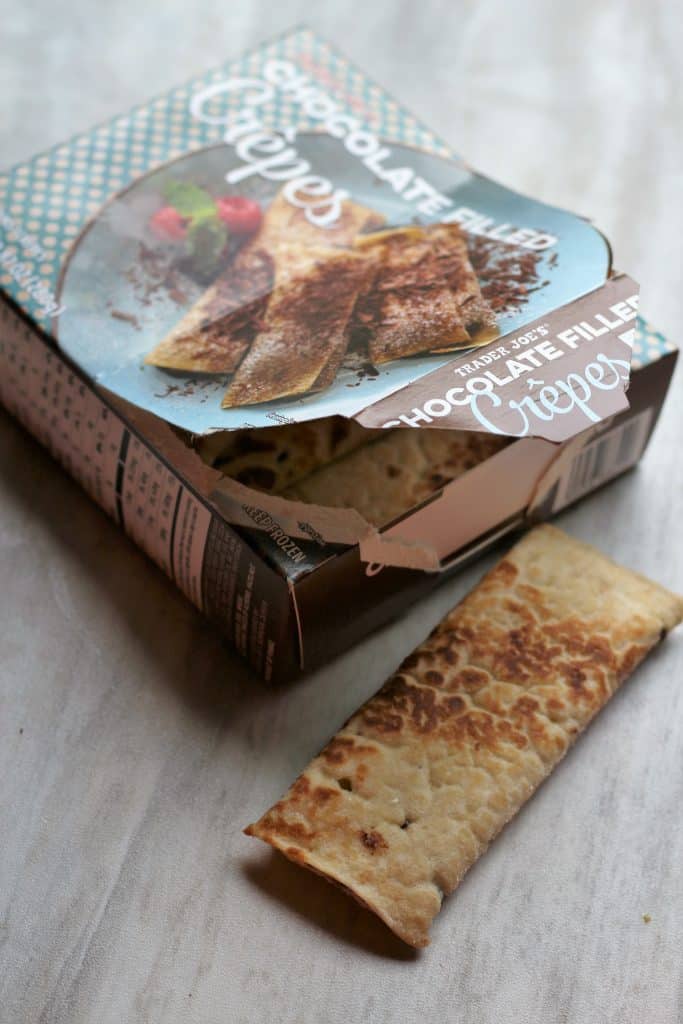 After being cooked you get: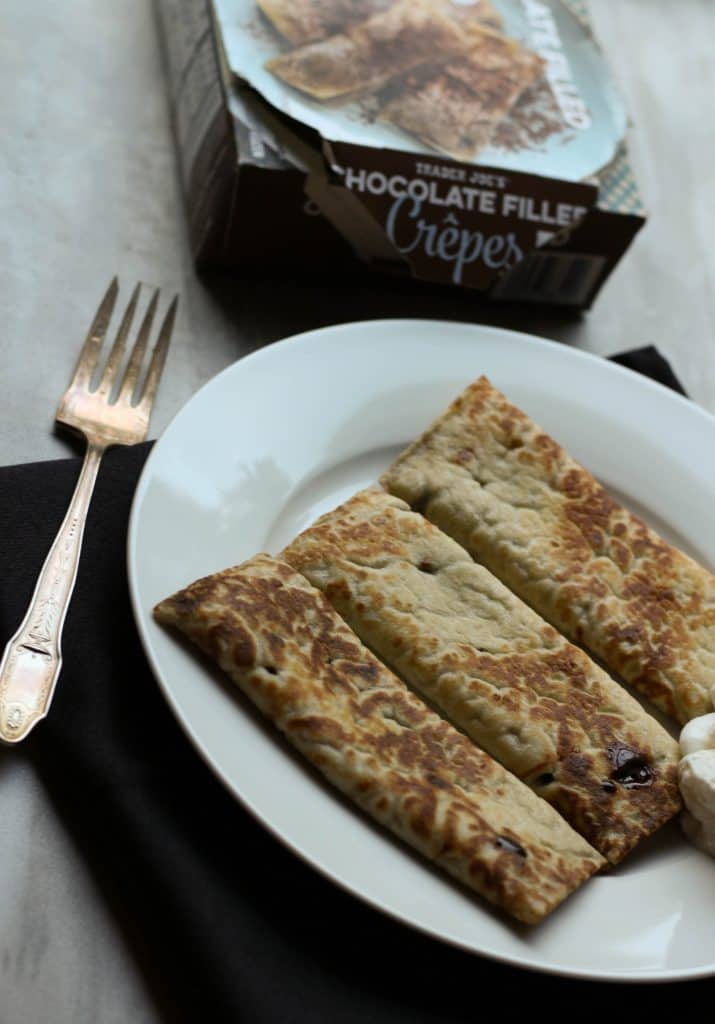 I opted to shave some extra chocolate in the form of a very bitter Chocolate Lover's bar (that was now quite pleasant in much smaller doses) with some whipped cream to garnish a bit further:
Would I buy this again?  Yes! Trader Joe's Chocolate Filled Crepes is a really solid option for a chocolate lover. I'm dreaming about having the other ones for breakfast.
Want to see more items I've reviewed from Trader Joe's? Click on Thoughts & Reviews of Trader Joe's for a searchable list.
Did you try it? Let me know what you think in the comments section!
8