Welcome to the final edition of the Trader Joe's Fearless Flyer Matchups for 2019. This is the Holiday Flyer. And just in time for the holidays are all the gifts that will help you prepare for your winter body.
This guide is pretty simple, it follows the order of the Fearless Flyer shopping list. But sadly, they aren't archived from month to month. So if you want a walk down memory lane, then click on the past flyers at the bottom of this post. If there is an image posted, then it is one of my reviews. If there is just a link, then it is to another reviewer's website. Happy shopping and Happy (almost) Holidays and New Year!
Bakery
Rustic Spice Cake
Beverages
Almond Nog
Select Harvest Coffee from Brazil & Uganda
Triple Ginger Brew
Winter Wassail and yes, I have recipes as a cocktail or warm wine beverage for this.
Cheese
Double Creme Brie with Truffles
Fig Goat Cheese Log
Horseradish Cheddar Cheese
Templar Roquefort
Flowers and Plants
24" Pine Cone Wreath
Poinsettias
From the Fridge
Antipasto Assortment
Bacon-Wrapped Porchetta Pork Roast
Black Truffle Butter
Cornish Game Hens
Chocolate Hummus
Charcuterie Pinwheels *New to shelves
Egg Nog Whole Milk Greek Yogurt
Everything but the Bagel Seasoned Smoked Salmon
Green Goddess Dip *new to shelves
Les Petites Carrots of Many Colors
Maple Bourbon Flavored Glazed Ham
Mozzarella Rolloni
Truffle Dip
Frozen
Candy Cane Joe Joe's Ice Cream
Cauliflower Pancakes
Potato Pancakes
Chocolate Lava Gnocchi
Crispy Vegetable Pouches
French Onion Soup Bites
Hold the Cone! Peppermint Ice Cream
I Dream of Chocolate Cake *new to shelves, review posting soon.
Mini Brie en Croute
Mini Cheesecake Cones
Mini Quiche Duo
Mini Stroopwafel Ice Cream Sandwiches
Pimento Cheese Puffs
Scallops Wrapped in Uncured Bacon
Gifts & Collections
A Taste of Vermont Organic Maple Syrup
Beyond Your Basic Seasoning Blend *new, just hit shelves.
Body Butter Trio
Candle Tin Trio
Gingerbread Flavored Dog Biscuits
Lip Treatment Duo
Mediterranean Olive Oil Gift Set *new to shelves, review posting soon
Organic Naughty & Nice Dog Treats
Peppermint Foaming Hand Soap *smells like a dupe of Bath & Body Works Twisted Peppermint
Rainbow of Honey
Trio of Cookie Baking Mixes
Grocery
Black Truffle Alfredo Sauce
Chocolate Peppermint Loaf & Baking Mix
Organic Italian Nocellara Olives
Peppermint Mini Marshmallows *new to shelves
Snacks & Sweets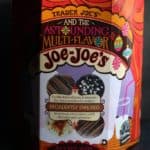 Astounding Multi Flavor Joe Joe's
Belgian Cookie Collection
Cachet Premium Belgium Chocolates
Cheese Biscuit Duo *new to shelves
Cookies, Wafers, & Florentines...Oh My!
Dark Chocolate Orange
Dark Chocolate Stars
DYO Ornament Cookie Kit *new to shelves, review up soon
Festive Chocolate Collection *new to shelves
Ginger Snowballs *new to shelves
Half Dipped Chocolate Biscotti
Horseradish & Chive Ridge Cut Potato Chips
Hot Cocoa Snowman
Jingle Jangle
Nuts About Rosemary Mix
Organic Pitted Medjool Dates
Oven-Baked Truffle Cheese Bites
Over the River & Through the Wood Trek Mix *new to shelves
Wine & Beer & Spirits
Campanology Pastry Stouts
Grand Reserve Carneros Pinot Noir
Platinum Reserve Rutherford Cabernet
Puerta de Plata Reserva
Tempest Bay Chardonnay
Trader Joe's Reserve North Coast Brut
Become Betty's Top 5 Items to Try
Trader Joe's Mini Hold the Cone! Peppermint Ice Cream Cones
Trader Joe's Mini Brie en Croute
Trader Joe's Cauliflower Pancakes
Trader Joe's Black Truffle Butter
Trader Joe's Crispy Vegetable Pouches
Previous Fearless Flyers
The Bottom Line
Don't forget to share your thoughts on what you are excited to try and leave a comment below.
You can also FOLLOW ME on Facebook, Instagram, Twitter, and Pinterest to see what I'm up to.
9